Former UFC fighter "War Machine" was arrested over the weekend at Krave nightclub in Vegas, TMZ reports: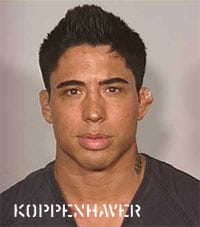 "Former 'Ultimate Fighter' badass Jon Koppenhaver, who goes by the aforementioned MMA nickname, was picked up by Las Vegas PD for misdemeanor battery Saturday morning after allegedly getting into a tussle at Krave Nightclub — a place described by one of their reps as 'gay … but very straight-friendly.' Cops tell TMZ security at Krave was escorting War Machine out of the club after a little brouhaha — when he allegedly turned on security and starting punching them. Security made a citizens arrest until Las Vegas PD could show up."
According to Deadspin, "Koppenhaver was released by UFC in September of last year for speaking ill of the then-recently deceased Evan Tanner He was dropped from Bellator for disparaging remarks he made on his MySpace blog about Barack Obama. Ever the charmer, Koppenhaver wrapped up that infamous blog entry with: 'P.S.: Fuck an Obama, fuck a Disney, fuck an ESPN and fuck the Bellator Fighting Championship.'"
Details on the reason for the altercation were not available.