In January I reported that Andrew Moller, the man who punched and killed Sean William Kennedy outside a Greenville, SC bar in 2007 while using anti-gay slurs, may be up for release this month.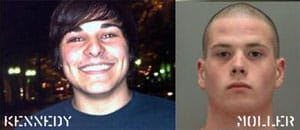 Last month, FOX Carolina reported: "Moller was originally charged with murder in the case. However, in November 2007 a Greenville County grand jury handed down an indictment for a reduced charge of involuntary manslaughter against Moller. Moller appeared in a Greenville County courtroom on Wednesday afternoon where he pleaded guilty to the manslaughter charge. Judge Ned Miller sentenced Moller to five years in prison, but suspended his sentence to three years with credit for the seven months in prison he has already served. The judge also ordered Moller to attend both anger management and drug/alcohol management classes. Moller must serve at least 85 percent of his sentence before being eligible for parole."
Moller is being considered for a parole hearing, and last night, outside the South Carolina state house, Kennedy's mother Elke and supporters came together for a candlelight vigil in Kennedy's honor with the purpose of drawing attention to the need for hate crime laws regarding sexual orientation and gender identity.
Said Elke Kennedy to WISTV: "He always said, 'when I get older, I'm gonna change this, make sure people are treated equally. This is my mission. Sean's death, in order for it not to be in vain, my job is to do whatever I can to change things so it doesn't happen again. We're not here to get revenge. This is about social justice, every citizen in South Carolina deserves protection.
Watch footage of the vigil and the interview with Kennedy, AFTER THE JUMP…
MAP of hate groups in South Carolina.