Fa Junior Moi Moi, a 20-year-old man who was placed on the Salt Lake Police Department's Most Wanted list in November after assaulting a man because he was gay, was arrested in Honolulu and sent back to SLC yesterday: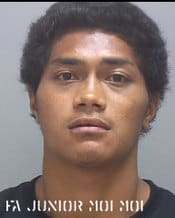 "On Aug. 9, 2008, Moi Moi met 18-year-old Carlos Lopez on Churchill Drive, a popular meeting spot for teenagers that overlooks the valley. Lopez and his friends, and Moi Moi and his friends, happened to be on Churchill Drive at the same time and seemed to hit it off, even posing for pictures together, police said. After the pictures were taken, Moi Moi asked Lopez if he was gay. When Lopez responded that he was, Moi Moi became enraged and punched Lopez several times, breaking his orbital bone, according to police. Police said several of Moi Moi's friends also participated in the beating."
Moi Moi faces two counts of felony aggravated assault, and one count of misdemeanor assault.
In September, I posted about the police request for information, which came a month after the initial attack. At that time they had no information about the suspect. I am glad to see that law enforcement had the tenacity to pursue this case to secure Moi Moi's arrest.
Previously
Salt Lake Police Send Alert Out on Gay Basher One Month Later [tr]