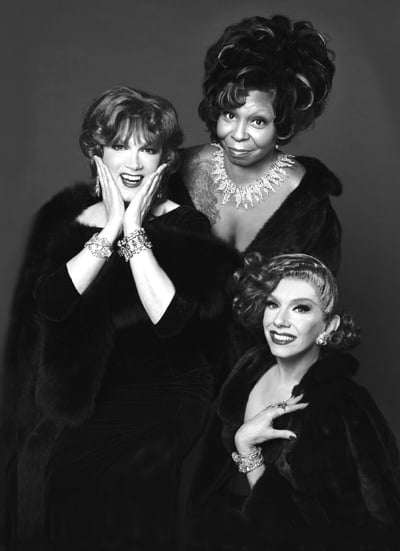 Via our theatre reviewer Kevin Sessums comes this bit of fun:
Charles Busch, Whoopi Goldberg, and Lypsinka are going to be performing a staged reading of James Kirkwood's infamous play Legends about two arch-rival has-beens who are forced to collaborate on a project in order to revive their careers.
The first two productions of this show never made it to New York. The first, staged in 1986 and starring Carol Channing and Mary Martin, closed on the road before making it to Broadway. The second, starring Joan Collins and Linda Evans, did a pre-Broadway national tour but suffered the same fate.
Now it's being presented in a special 'one night only' staged reading benefit on Monday evening, March 23 at 8PM at Town Hall (123 West 43rd Street). Directed by Mark Waldrop, the presentation features a script that has been adapted for this reading by John Epperson (Lypsinka), and also stars Bryan Batt. The reading is a benefit for Friends In Deed – The Crisis Center for Life-Threatening Illness.
Info HERE.