This account from BlackBook's Nick Haramis is certainly not what I'd expect to happen at a popular burger joint in the heart of New York's West Village (331 W 4th St), but it deserves attention and investigation: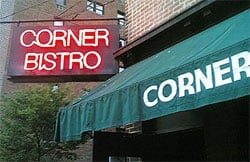 "The recap: My boyfriend sat down at a four-top. A man—a busboy or a waiter, definitely not a host—told him that our group couldn't sit down. 'You have to order food,' he said. 'We'll start with fries,' said my boyfriend, not moving. The man then grabbed the back of his shirt, at which point I reached in, instinctively, to take his hand away. I was then thrown down, the side of my head the last thing to hit the ground. There was some confusion as my boyfriend tried to stop the whole thing, and was then punched in the face, while the Bistro worker screamed 'faggots' a few times, for good measure."
More at BlackBook….
UPDATE: Answers to some of the questions that have been raised.
(image source)