The Oscar Wilde bookshop in Greenwich Village, said to be the nation's oldest gay bookstore, will close its doors due to the economy, City Room reports. A sad loss.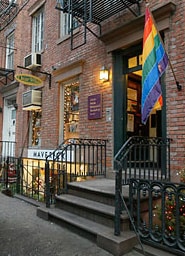 Wrote its current owner Kim Brinster in a letter to customers:
"It is with a sorrowful heart that after 41 years in business the Oscar Wilde Bookshop will close its doors for the final time on March 29, 2009. We want to thank all of our customers for their love and loyalty to the store over the years. You have helped make this store a world wide destination and all of us at the store have enjoyed welcoming our neighbors whether they are next door or half way around the world. In 1967 Craig Rodwell started this landmark store that not only sold Gay and Lesbian literature but also became a meeting place for the LGBT community. Over the years it grew into a first-rate bookshop thanks to the loyal, smart and dedicated staff. There are not enough words to thank these dedicated booksellers for making the OWB one of the world's finest LGBT bookstores. I feel very honored to have gotten to work with them. Unfortunately we do not have the resources to weather the current economic crisis and find it's time to call it a day. So thanks to all who have been a part of the Oscar Wilde family over the years, you have truly been a part of a great global community."
The store has had four previous owners, and Brinster says there's just no way to keep up in the economy: "Even if we were rent-free it wouldn't be enough for us to cover the bills we have. This is one instance in New York where it's not a case of the landlord gouging the tenant. Our landlord has always remarkable with us."
Philadelphia's gay bookstore, Giovanni's Room, celebrated its 35th birthday in October. At the time, its owner Ed Hermance expressed concern about who his successor might be.
Watch a 2007 interview with the folks at the Oscar Wilde Bookshop, AFTER THE JUMP…
Venerable Gay Bookstore Will Close [city room]