Publisher: Gay locals IN Los Angeles magazine and Frontiers magazine to merge on Februrary 25.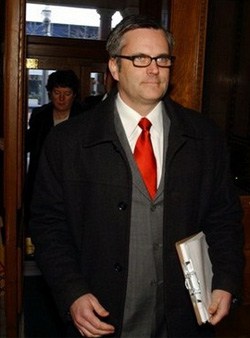 Sam Adams gave an interview to OUT magazine over the weekend which they've just posted: "Seventeen months of living this lie has been torturous. To get out from under that is a tremendous amount of relief, combined with a lot of shame, and I'm going to turn that into making amends. And getting Beau out from under that lie, and the guilt I have for asking him to do that, is also a huge relief."

It's hard to be a happy drag queen when you're a soaking wet drag queen.

Guardian blog slams Morrissey for nearly naked photo sleeve.

Hillary Duff and Faye Dunaway in war of words.

The Hetrick-Martin Institute (home of the Harvey Milk High School), Larkin Street Youth Services (aiding San Francisco's homeless youth), the San Francisco LGBT Community Center and the Point Foundation (the nation's largest scholarship-granting organization for LGBT students of merit in all fields of study) run "thank you" ad to Milk filmmakers in NYT.

Fans send Boy George money in prison.

HIV Gene Therapy trials begin in humans: "Since the discovery that a small portion of people who are exposed to HIV do not get infected, scientists have been working to discover the secret to those people's resistance and how to make others resistant as well. It turns out that most people have a gene called CCR5, which makes them vulnerable to HIV infections. The naturally resistant people have mutant CCR5 genes that inhibit HIV. Previously, scientists found that by cutting the CCR5 gene out of white blood cells involved in the immune response known as T-cells, they could protect a tube full of human cells from the virus. The gene editing technique relies on proteins called zinc finger nucleases that can delete any gene from a living cell. In theory, zinc finger nucleases could give that immunity to anyone."

Leader of Portugal's ruling Socialist Party, Jose Socrates, tells rally it's time for marriage equality: "This is the moment for the PS, in its national congress, to affirm its desire to propose to Portuguese society the right to civil marriage for people of the same sex. As far as I know, after doing this in our country, we won't be the last to do so. I also want to say that the values that inspire us when we propose this change to the Portuguese people are the values that have always been in the heart of the PS."

Oscar-nominated celebs do lunch.

Is Whitney Houston ever going to make a comeback?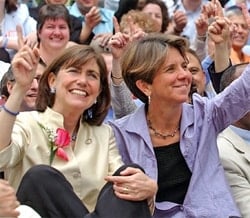 Landmark Massachusetts marriage couple Hillary and Julie Goodridge file for divorce.

The complexities of the term tranny: "This is part one in a two-part series on trans-related terminology. Part two will be a discussion about how many classic transsexuals don't want to be labeled as transgender, and how new and legacy LGBT media needs to address self-identification when people who could fall under the term transsexual don't want to be unwillingly absorbed by transgender terminology into transgender community."

Jason Wu puts fur collection on hold.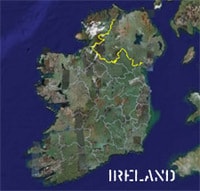 Ireland: One in four gays has been "punched, kicked or beaten in violent homophobic attacks, a new report has found. And almost one-fifth have tried to take their own lives — with many saying this was related to their sexual identity."

Pope elevates Bishop who said Hurricane Katrina was God's punishment for gays: "The Vatican yesterday announced that Gerhard Wagner has been appointed as auxiliary bishop in Linz, Austria. Wagner has served as the pastor of a church in the Austrian town of Windischgarsten since 1988, and received a doctorate in theology from the Gregorian Pontifical University in Rome. In 2005, the 54-year-old was quoted in a parish newsletter as saying he was convinced that the death and destruction caused by Katrina that year was 'divine retribution" for New Orleans' permissive sexual attitudes and tolerance of homosexuality.'"