While Obama's press secretary Robert Gibbs said in a Change.gov video that "Yes," the President would lift the ban on gays in the military, Obama is signaling that it will be months if not years before enough canvassing of military officials and congressional leadership can be done for him to be comfortable in moving forward: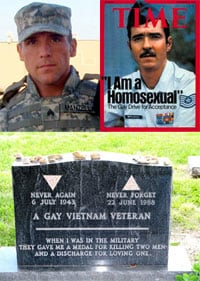 "Obama is hoping to avoid the missteps of the Clinton administration when it tried to open the ranks to gays and lesbians, only to be confronted by fierce resistance from lawmakers and commanders…At the Pentagon, officials say they have been told not to expect the administration to seek to lift the ban quickly. One senior officer, speaking on the condition of anonymity because he is not authorized to speak to the press, said staff officers for Admiral Mike Mullen, the chairman of the Joint Chiefs of Staff, have been told it will be several months at the earliest – possibly not even this year – until the top brass will be formally asked to weigh in on a change in policy. And even then, he said, the military has been assured it will have wide latitude to undertake a detailed study of how a change in the policy would affect the military."
Nathaniel Frank, a researcher at a think tank in Santa Barbara, California, says there is "good reason" for Obama to proceed with caution, but points out the issues with moving too slowly: "A delay could let opposition fester and build."
In December, Colin Powell said it was time to re-evaluate the policy. And in November, over 100 retired generals and admirals called for the repeal of the policy.
The NYT: "Mr. Obama's cultivation of the military has reached the point that it is already causing unease among some members of his liberal base, who say they will hold him to his promise on troop withdrawals and pressure him to move more quickly on'don't ask, don't tell.' The nation's largest gay rights lobbying group has called on the president to develop a plan to end 'don't ask, don't tell' within his first 100 days, and another group is asking that Mr. Obama push for repeal by the end of the year. 'I'd be very concerned if they don't seize this opportunity in 2009," said Aubrey Sarvis, the executive director of the Servicemembers Legal Defense Network, an advocacy group that represents gay men and lesbians in the military. "We take the president at his word, and we plan to keep his feet to the fire.'"
Obama seeks assessment on gays in military [boston globe]