President Obama announced today that Jeffrey S. Crowley, MPH, Senior Research Scholar at Georgetown University's Health Policy Institute, is the new Director of Office of National AIDS Policy, according to a White House announcement received by Towleroad.
Crowley is gay. According to the Victory Fund, "The LGBT community's Presidential Appointments Project recommended Crowley for the appointment."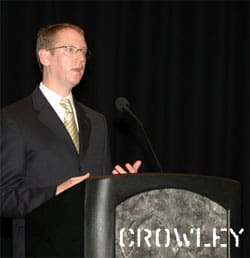 Said Obama: "Jeffrey Crowley brings the experience and expertise that will help our nation address the ongoing HIV/AIDS crisis and help my administration develop policies that will serve Americans with disabilities. In both of these key areas, we continue to face serious challenges and we must take bold steps to meet them. I look forward to Jeffrey's leadership on these critical issues."
According to the statement: "The Office of National AIDS Policy (ONAP) is the White House Office tasked with coordinating the continuing efforts of the government to reduce the number of HIV infections across the United States. The office emphasizes prevention through wide-ranging education initiatives and also helps to coordinate the care and treatment of citizens with HIV/AIDS. The President has made a strong commitment to developing a national AIDS strategy, which will be a top priority for the Office of National AIDS Policy.  In addition, ONAP coordinates with international bodies to ensure that the fight against HIV/AIDS is fully integrated around the world.  The ONAP is part of the Executive Office of the President's Domestic Policy Council (DPC)"
In related news, Peter Staley at POZ reported that "tucked away in the massive stimulus package signed by President Obamalast week is the largest budget increase in the NIH's history" which will mean a nearly $1 billion increase in the current NIH AIDS research budget of $2.9 billion.
 Crowley's bio, AFTER THE JUMP…
Jeffrey S. Crowley, M.P.H., is a Senior Research Scholar at Georgetown University's Health Policy Institute and a Senior Scholar at the O'Neill Institute for National and Global Health Law, Georgetown  University Law  Center. In these roles, he is recognized and respected for his capacity to integrate public health research with political strategy to achieve policy changes.  He has authored numerous reports and policy briefs, and has testified before various Congressional Committees and the Institute  of Medicine on several occasions. His primary areas of expertise are Medicaid policy, including Medicaid prescription drug policies; Medicare policy; and consumer education and training.
Crowley previously served as the Deputy Executive Director for Programs at the National Association of People with AIDS (NAPWA).  While at NAPWA, he helped implement several key initiatives including The National HIV Testing Day Campaign and the Ryan White National Youth Conference.
Crowley has spent the last fourteen years working to improve access to health and social services for people living with HIV/AIDS, people with physical and mental disabilities, low-income individuals, and other vulnerable populations.  His writings have been printed in numerous publications and journals.
Crowley received his Master of Public Health from the Johns Hopkins University School of Hygiene and Public Health, and his Bachelor of Arts in Chemistry from Kalamazoo College. He is also an alumnus of the United States Peace Corps, where he served as a Volunteer/High School Science Teacher at the Nsongweni High School in Swaziland.