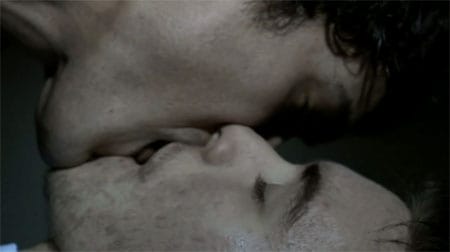 The video for the new single from Pete, er, Peter Doherty's debut solo album Grace/Wastelands, called "Last of the English Roses" features Doherty scenes of Doherty playing football (and looking unusually ordinary) in a playground, and it's capped by a 30-second man-on-man kiss.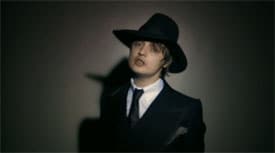 The in-an-out-of-detox former Libertines and current Babyshambles lead singer is known for his drug-related run-ins with the law, his relationship with model Kate Moss, and a side career in art in which many of the works are made with Doherty's own blood.
In 2004, Doherty appeared in a photo shoot by Andrew Kendall in which he swapped rocker spit with his friend and fellow musician Peter Wolfe.
In 2005, Doherty said in a biography by Pete Walsh that before he became famous in The Libertines he worked as a gay prostitute and drug dealer to make rent. Said Doherty: "I was working in a bar, selling drugs, working on a building site,writing poetry in the graveyard shift at The King's Head – and I waswanking off old queens for like £20. I remember once being taken back to this mews house in Chelsea, right old f**king badger he was. It was a bit daft actually. As he slept, I locked him in his room, tied a pair of trousers over his head and nicked all these American dollar bills out of his drawer.He's probably still there, with an erection, listening to CLASSIC FM radio."
Watch the video, AFTER THE JUMP…