In this production Vera is played by Stockard Channing. Others who have played her include Vivaca Lindfors, opposite Fosse; Patti Lupone, opposite Gallagher; Joan Copeland (sister of Arthur Miller), opposite Chadman; Rita Hayworth, opposite Sinatra. Sian Phillips of I, Claudius fame played the part in a 1980 West End production. Channing's Vera never lets us forget she is slumming – or is that Channing herself who gives off such a feeling? Her rendition of "Bewitched, Bothered, and Bewildered" is filled with a woeful ennui, never a sexual hunger, which is the way I once heard it sung by Lena Horne in her one woman Broadway show back in 1980. She would have made a great Vera in her day. My mind would wander at times in this production and imagine Horne in the role – or, now that that's not possible, an all African-American version reset in Harlem back during its jazz-age Renaissance.
T T 1/2 (out of 4 possible T's)
Pal Joey, Roundabout Theatre, Studio 54, 254 W 54th St, New York. Ticket information here (Closes March 1).
***HEDDA GABBLER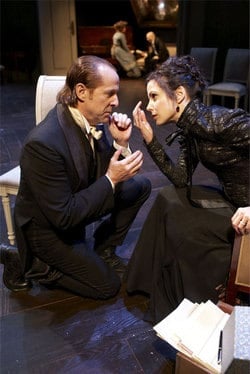 Now … ahem … Hedda. Here goes. I loved it. Was never bored. Felt assaulted at times. Laughed. Sat with my jaw dropped. Shook my head from time to time. Was floored by the audacity. Dumbfounded? At one or two moments. Moved? A qualified yes. "It will prove controversial." I emailed a publicist for the show the next day.
Ibsen's play, a critique of bourgeois society, was also lambasted by critics when it first opened in Germany in 1891. Director Ian Rickson, whose production of The Seagull was hailed earlier this year, seems to have turned over the play's psychological rock to see what neurasthenic creatures scurry about beneath all the repressed Scandinavian emotions embedded in the text. It is a modern — even modernist — reading of the play that falls short of an all-out decontructionist take that the Dutch director Ivo van Hove took — with an aesthetic sledgehammer — to Hedda Gabler several seasons ago at New York Theatre Workshop in which Elizabeth Marvel gave a thrilling and unbridled interpretion of Hedda. It's as if Rickson and his cast are giving us a parallel-universe Hedda. Ibsen, in his notes on the title character, wrote that "life for Hedda is a farce which isn't worth seeing through to the end." It is this raging farcical aspect of life that Rickson is tapping into. We are witnessing what Hedda is repressing. This is who she is inside her head. This is the view of life she is really seeing. It is dreamily nightmarish. And, indeed, Rickson opens the play with a tableau of Hedda asleep with her gown thrust above her naked loins so that she is literally mooning the audience, which I took as a sign of things to come, as I did her also literally throwing the dust covers off the furniture of the house when she awakes as if to warn us that this will be no usual antimacassared Ibsen production.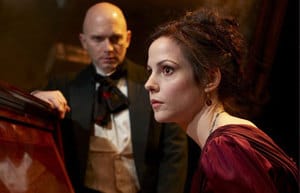 Mary Louise Parker, as Hedda, is so downright feral that she resembles a Minnie Mouse off her meds channeling that other Minnie, the great Ibsen interpreter of the early 20th Century, Minnie Maddern Fiske. Parker is fiercely petulant throughout. And as sexually hungry as the bewitched, bothered and bewildered Lena Horne back in 1980. I was certainly bewitched by her. But the New York Times's theatre critic, Ben Brantley — an old friend and colleague who was two seats away from me — seemed only bothered and bewildered. He squrimed and scribbled and squirmed some more. I could sense — rightly so, judging by his later pan of the show — he was loathing a production that was proving, at times, laughable to him. I instead was getting swept up in the production's anarchic take. Its nasty aplomb. Its rudeness. Its taunting. When Mary Louise Parker took her bow I shouted "Bravo!" just to see if Ben would flinch. He did. And that, I thought, is what Ibsen demands, this flinching as he flouts the flinchless among us.
T T T (out of 4 possible T's)
Hedda Gabbler, American Airlines Theatre, 227 West 42 St., New York. Ticket information here (Closes March 29).
Recently reviewed…
On the Stage: Billy Elliot, Shrek, 13, and Prayer for My Enemy [tr]
On the Stage: Back Back Back and Farragut North [tr]
On the Stage: Streamers and The Language of Trees [tr]
On the Stage: All My Sons and Speed-The-Plow [tr]
On the Stage: A Man for All Seasons [tr]