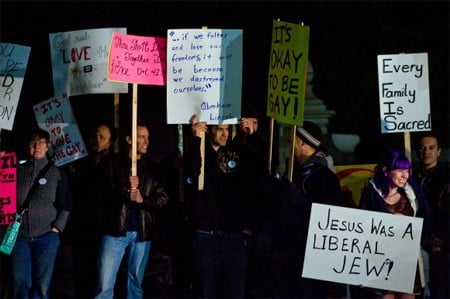 Hundreds of enthusiastic anti-gay conservatives attended a think tank at Thanksgiving Point in Lehi, Utah last night. It was the 'Sacred Ground initiative' launched by the Sutherland Institute. Speakers warned of the dangers presented in the set of gay rights bills before the Utah legislature called the Common Ground initiative. One of those bills failed in committee last week.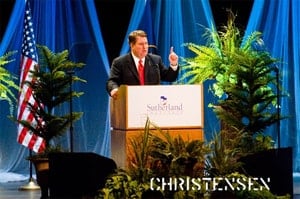 Although legal experts say differently, these moral crusaders fear the granting of any right to same-sex couples.
The Herald Extra reports: "Although Utah passed a Constitutional amendment defining marriage as between a man and a woman, [former legislator Lavar] Christensen said the set of bills are still a real threat to the institution of marriage. The bills, known in Utah as the "Common Ground Initiative," are similar to bills passed in California that led to a recent California Supreme Court decision that legalized gay marriage in the state, he said. Paul Mero, president of the Sutherland Institute, also spoke of what he called the basis of freedom — the family. Mero said responsible citizens need to make the decision to stand for what they ought to do, not what they want to do. Gay marriage is a family created by the state, he said, not a natural structure. 'The proper definition of family is critical to our liberty,' he said."
Said Christensen: "We have the utmost empathy and sincere compassion for all human beings. But our empathy and compassion are not contingent on, nor do they require, the redefinition of marriage."
More than two dozen protesters who disagreed with that sentiment (top) gathered outside.
Hundreds gather in Lehi for anti-gay-marriage presentation [daily herald]
(image mario ruiz)