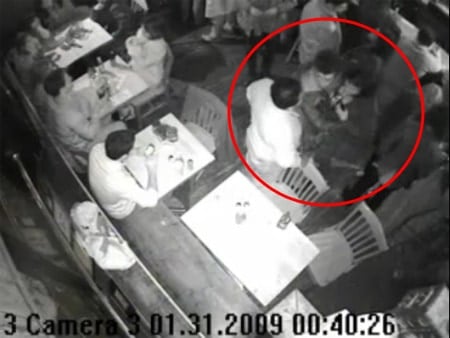 Video evidence of the alleged gay bashing at Corner Bistro turned up on YouTube yesterday in the former of a surveillance tape which corresponds with the date and time BlackBook editor Nick Haramis says he was assaulted by the restaurant employee.
Here is Haramis' description of the incident, which I posted last week: "The recap: My boyfriend sat down at a four-top. A man—a busboy or a waiter, definitely not a host—told him that our group couldn't sit down. 'You have to order food,' he said. 'We'll start with fries,' said my boyfriend, not moving. The man then grabbed the back of his shirt, at which point I reached in, instinctively, to take his hand away. I was then thrown down, the side of my head the last thing to hit the ground. There was some confusion as my boyfriend tried to stop the whole thing, and was then punched in the face, while the Bistro worker screamed 'faggots' a few times, for good measure."
After viewing the tape several times, I was unable to see a moment where the employee grabbed Haramis' shirt, as he claims. What the tape does appear to show is Haramis acting first, grabbing the employee by the upper body or neck, before the employee strikes back.
Below, a sequence of frames of the incident, and the entire clip, AFTER THE JUMP…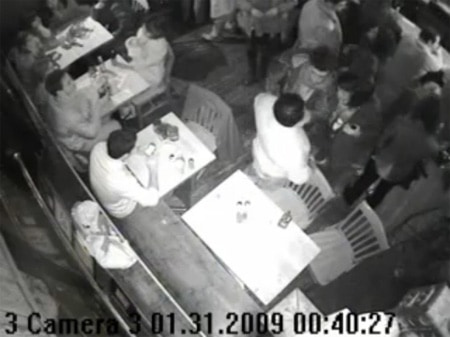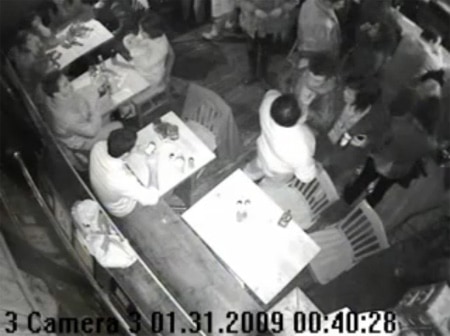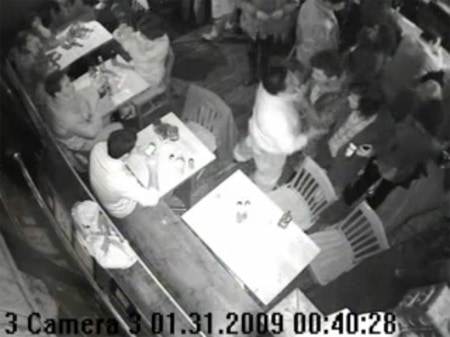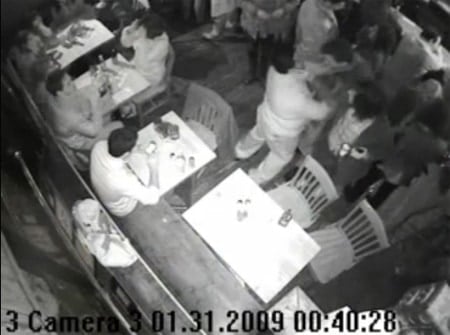 Waatch the tape, AFTER THE JUMP…
The incident in question begins at about 40:25 on the restaurant tape, 1:!0 on the YouTube.
Previously
Man Claims Anti-Gay Assault by Staff of NYC's Corner Bistro [tr]
UPDATE: On the Corner Bistro Gay Bashing [tr]
(thanks, whit)