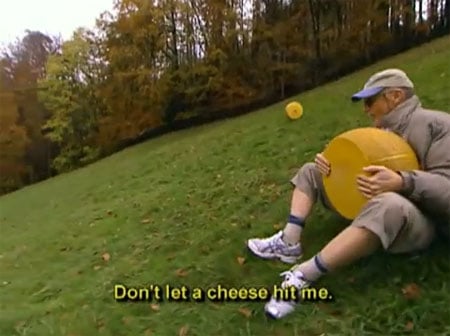 On last night's premiere of The Amazing Race, teams were required to hike to the top of a steep hill in Switzerland and carry down heavy pieces of cheese using traditional wooden cheese carriers while workers at the dairy laughed at them.
As I've mentioned before, this year's show features the father/son team of Mel and Mike White. Rev. Mel White (above, concerned about runaway cheese) is the founder of gay Christian group Soulforce and the Equality Ride. His son, Mike, is a bisexual actor who's been in Chuck and Buck and School of Rock.
The show also features its first deaf contestant Luke, who is competing with his mother (she's the one who rightly calls the cheese carrier a "piece of crap"), and is also apparently gay, though it's not mentioned in his show profile.
Both teams feature in this clip, which was certainly the most entertaining portion of last night's show. Watch it, AFTER THE JUMP…