Utah Democrats want anti-gay state senator Chris Buttars removed from two additional committees over his anti-gay remarks, the Salt Lake Tribune reports: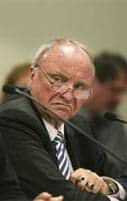 "Senate Democrats said this morning that Sen. Chris Buttars' punishment for his anti-gay remarks has been inadequate and asked Senate President Michael Waddoups to remove him from the powerful Rules Committee.' President Waddoups put faith in Sen. Buttars and appointed him to very important and key positions. Unfortunately, Sen. Buttars betrayed that trust,' said Senate Minority Leader Pat Jones, D-Salt Lake City, who also sought Buttars' removal from the Senate Health and Human Services Committee. 'Removing Senator Buttars from these key positions …would be sending a clear message to Utahns, Americans and humankind that we do not tolerate bad behavior in the Utah Senate,' she said"
Earlier I noted that activists are planning a Buttars-palooza this Saturday on the state capitol lawn to celebrate diversity in response to the controversy.
A report from Utah's KSL on the new demands, AFTER THE JUMP…