Somehow it makes perfect sense that Mother Nature is a lesbian. Via The Hollywood Reporter: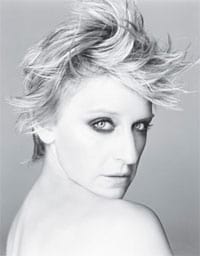 "The project is being penned
by "Sex and the City" writer-executive producer Jenny Bicks. In the film, which springs from an original concept inside Walden,
the Emmy-winning talk show host will return to Earth for the first
time since the planet's creation. No word yet on whether Mother
Nature likes to dance. 'I've always wanted to control the weather,' DeGeneres said. 'Nothing will stop me from doing this … neither rain, nor snow,
nor sleet. … I may be thinking of the postal service — but I'm
really excited about the movie.' Walden execs Michael Bostick and Evan Turner will oversee the
project. The company is fast-tracking it for a potential summer
shoot in L.A. while DeGeneres is on hiatus. Family-friendly Walden Media produced the 'Chronicles of Narnia'
series, 'Journey to the Center of the Earth' and 'Charlotte's Web.'
Its forthcoming slate includes 'Tooth Fairy' with Dwayne Johnson
and 'Ramona & Beezus,' adapted from the Beverly Cleary
books."