Paul Donahoe, the nationally-ranked wrestler who with another teammate was dismissed by the University of Nebraska wrestling team after being discovered on a gay porn site last August, transferred to Edinboro University and is now again ranked #1 in his weight class nationally.
Donahoe talked to the Boston Globe about the scandal and its repercussions: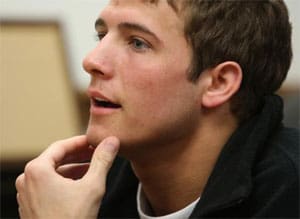 "It was very stressful. It was two weeks before school started. I didn't do anything illegal. I didn't hurt anyone. I don't think I did anything wrong. Who should I apologize to? Being dismissed motivated me a little bit. I'm a competitive
person. But, realistically, 32-0 doesn't matter. The regular season is
just preparation for the NCAA…They obviously gave me a second chance to wrestle again. I'm
thankful for that. It's everything to me. I think the new coaches and
new workout partners really helped me.
"I am straight, but on the forums people make a lot of gay jokes about
me. I'm not too concerned. They can talk about me all they
want, it doesn't matter. If a guy wants to be with a guy, who cares?
"Obviously, I did it for the money. We kept thinking no one
would ever find out because it was a gay website and we really wanted
that money. They left me a lot of messages, so I thought, 'What the heck?' People do worse for money, so… They were supposed to cover [the tattoo on his left thigh that says 'wrestling'] up but obviously they left it. Gay kids in Lincoln [Neb.] wrote, 'Hey, nice website. I saw you.' I
wrote back, 'Don't tell anyone,' but with word of mouth, people found
out. I believe it was unfair for Nebraska to dismiss me from the team. For
one, there's plenty of athletes throughout the University of Nebraska
who have had DUIs and who have been in fights and are still playing.
But I guess that's OK. Posing nude, I guess, is worse than someone
drinking and driving and risking someone's life, in their eyes."
Previously…
Nationally Ranked Nebraska Wrestlers Pinned on Gay Porn Site [tr]