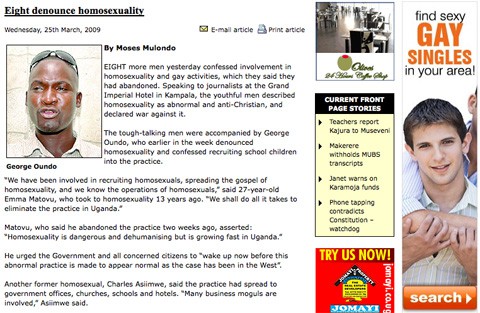 Uganda's "ex-gay" movement gained momentum this week as eight men held a press conference at the Grand Imperial Hotel in Kampala, according to Ugandan website New Vision: "the youthful men described homosexuality as abnormal and anti-Christian, and declared war against it."
The government is backing them up with threats of its own.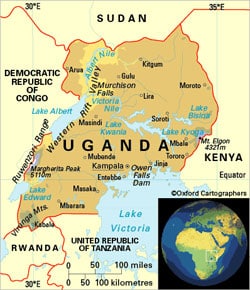 Said one of the men, who claims he gave up homosexuality two weeks ago: "We have been involved in recruiting homosexuals, spreading the gospel
of homosexuality, and we know the operations of homosexuals. We shall do all it takes to eliminate the practice in Uganda. Homosexuality is dangerous and dehumanising but is growing fast in Uganda."
Said another: "Many business moguls are involved."
The group's leader, a man named George Oundo, apparently held a separate press conference earlier in the week. He said: "We shall expose those who refuse to abandon the practice and we shall
not be intimidated because we are protected by Jesus. We
know their operations, including a restaurant in the city centre where
homosexuals wait for clients from nearby hotels."
The article ran next to a contextual Google advertisement from Mate1 that read "find sexy gay singles in your area!"
(Note: occasionally here on Towleroad you may see similar contextually-driven ads that also appear to buck the slant of our content. Some of them are extremely difficult to block, and in many cases we do try. We apologize if they cause offense.)