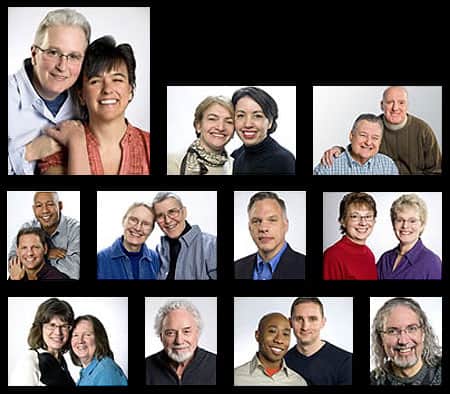 The plaintiffs: left to right, top top bottom (above): Nancy Gill &Marcelle Letourneau, Melba Abreu & Beatrice Hernandez, Martin (Al )Koski & Jim Fitzgerald, Keigh & Al Toney, Better Jo Green &Jo Ann Whitehead, Dean Hara, Mary Ritchie & Kathy Bush, Dorene& Mary Bowe-Shulman, Herbert Burtis, Marlin Nabors & JonathanKnight, Randell Lewis Kendell. Information via GLAD.
***
Eight Massachusetts couples and three widowers and Gay and Lesbian Advocates and Defenders (GLAD) plan to file suit today challenging provisions in section three of the federal Defense of Marriage Act that deny them access to pensions, health insurance, and other benefits received by married couples.
Although the suit has a narrow focus, Janson Wu, an attorney for GLAD, told Bay Windows that he felt a favorable ruling would deal a "crippling blow to DOMA as a whole.
Bay Windows reports: "If successful the suit would overturn only thosespecific provisions of DOMA, not the entire statute, which preventsfederal recognition of any same-sex marriage and also allows states todeny recognition of same-sex marriages performed in other states."
The plaintiffs include Dean Hara, widower of the late congressman Gerry Studds, Herb Burtis, a 78-year-old voice teacher who lost his partner of 60 years from Parkinson's disease last August and cared for him for the last 16 years of his life yet is denied the full benefits of his partner's Social Security.
Two of the plaintiffs are Mary Ritchie and her spouse Kathleen Bush: "Ritchie, a Massachusetts State Police trooper, has been married foralmost five years and has two children. But when she files her federalincome tax return, she's not allowed to check the 'married filingjointly' box."
The NYT reports: "Because same-sex marriage is allowed in only two states,Massachusetts and Connecticut, the number of spouses who are deniedsuch benefits is fairly small. But Gay and Lesbian Advocates andDefenders, the group planning to file the federal suit, believes thenumber will grow as more states consider granting gay and lesbiancouples the right to marry. At least eight other states, including New York, are considering same-sex marriage bills. 'Inour view, it's a straightforward equal-protection issue,' said Mary L.Bonauto, civil rights project director for the group, referring to theconstitutional mandate that laws be applied equally to everyone."
Said Wu: "Our legal argument is that [the portions of sectionthree targeted in the lawsuit are] a violation of our federalgovernment's guarantee to treat citizens equally by refusing torecognize the marriages only of same-sex couples, and that principle ofequality should apply in other contexts if we're successful…[The case] certainly can and may reach the SupremeCourt level, and we think the Supreme Court is receptive to thesefundamental notions of equality and the balance between federal andstate governments."
BONUS VIDEO: Janson Wu speaks at about marriage discrimination at a Boston rally in January, AFTER THE JUMP…
CASE OVERVIEW [glad] FAQ [PDF]
Overview of lawsuit [PDF]
GLAD challenges federal DOMA [bay windows]
Married gays in Mass. sue US for federal benefits [ap]
Suit Seeks to Force Government to Extend Benefits to Same-Sex Couples [nyt]