Michael Musto has the goods on why the Jim Carrey – Ewan McGregor prison romance I Love You, Phillip Morris is having a hard time finding a distributor in the U.S. Musto talked to Lewis Tice of TLA, who has seen the film: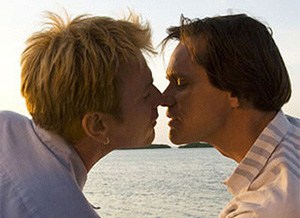 "The scene is not shocking in the sense that any body
parts are actually revealed–both actors are nude, but the way the
scene is shot, no pickle is on display. The surprising part is that the
'bottom' is this muscle, bearish type, who is on all fours, getting a
really hard pounding by Carey (sic). It was mostly the tone and my perception
of Carey as an actor, just because I never looked at Carey in a sexual
manner and he was so dedicated to giving it to the muscle-bear and the
sexual tone was authentic, it caught me off guard. I eventually got
over it and I think Carey is convincingly fantastic in the film. But I
think most folks are used to seeing Ewan McGregor naked and engaging in
man-on-man sex, but Carey, not so much. So more power to him for going
there."
I posted last week that folks are saying the film may go straight to DVD.