John Katehis, the 16-year-old knife-collecting satanist who stabbed WABC newsman George Weber to death last week after they met on Craigslist, angrily demanded cash for his story when visited by the New York Post over the weekend: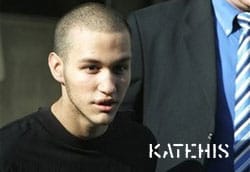 "Wearing a light green jumpsuit and a menacing scowl on his face,
Katehis again made clear there was only one way he'd spill the beans. 'Is this a cash offer?' snarled Katehis. 'Cash offers only!' Once it became clear no money would be exchanged, Katehis shot up and yelled again, 'cash offers only!, and stormed out…Katehis's classmate, Daniel Rongo, was also at Bellevue yesterday to visit the jailed killer. 'He was always quiet,' said Rongo, 19. 'John was never the fighting type. Nobody was afraid of him.' But Katehis wasn't happy to see his friend, telling him, 'I always hated you at school. Stop wasting my visits.'"
Katehis pleaded not guilty to Weber's murder last week, despite making an incriminating confession to police.