Agence France-Presse reports that Morocco has begun a state crackdown on feminists, gays, and those practicing Shiite Islam in order to sustain the state's control over moral values in the run-up to elections set to take place this summer: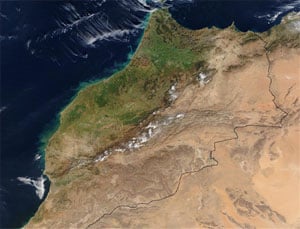 "The government's initiative extends to the moral sphere with the
interior ministry declaring in a statement Saturday that it was
determined to confront, 'with vigour and in the framework of existing
legislation all activities, writings and books seeking to attack the
moral and religious values' of Moroccan society. Government
sources say this is a counter-attack against articles in the press
calling for greater tolerance of homosexuality in Morocco. The
government regards homosexuality as contrary to social values and
Islam, and Islamists, in particular the Justice and Development Party
(PJD), have condemned the campaign and called for firm action. Newspapers report that about 20 gays were recently arrested in the centre of the country. A French feminist organisation was earlier this year refused permission to open a branch in Morocco. Fouzia
Assouli, a women's rights campaigner, said the new emphasis on moral
values was linked to local elections due to take place in June and the
government's determination not to give Islamists an issue around which
to rally."
Last week I posted that a furor had erupted over a seminar on sexuality that was scheduled to take place. Authorities blamed British and Spanish activists for assisting locals in organizing the event.