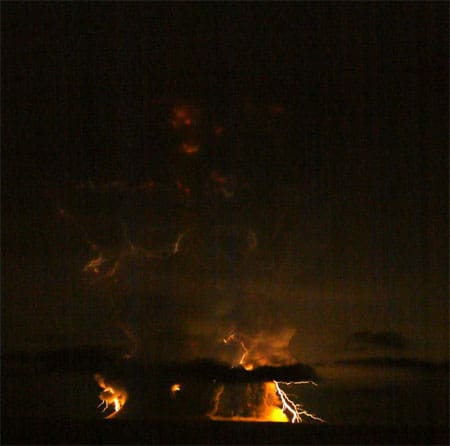 Alaska's Mount Redoubt volcano continues to display elevated activity. After several eruptions on Saturday, Anchorage's airport was closed. It has since re-opened. You may remember that in 1989 when Redoubt was having another eruption a KLM 747 dropped 13,000 feet after its engines became filled with ash from the volcano. Luckily it was able to restart two of them and land safely.
Bretwood Higman, who is trekking from Puget Sound to the Bering Sea, snapped the photo above of lightning during an eruption late Friday night. He also produced a time-lapse film during an eruption on Saturday.
You can watch the time-lapse clip, along with a news report about the Anchorage airport closure, AFTER THE JUMP…
.
And here's the AP news report: