The NYT looks at the recent threats in Connecticut to openly gay lawmakers Michael Lawlor and Andrew McDonald over their support of a bill that would have altered the legal, financial, and administrative
structure of local parishes, giving local parishioners more control. The bill enraged Connecticut's Catholic community, some of whom (using the bill as a convenient excuse to also demonize the lawmakers for the legalization of same-sex marriage in the state) sent Lawlor and McDonald death threats, and led to the arrest of 26-year-old Timothy Kane.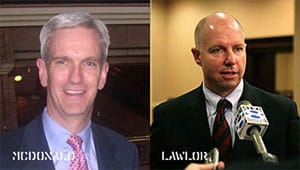 Kane's email read: "You better hope myself and other Catholics don't find out where you
live, cause there's hell to pay for your attack on the church. Fuck off. God hates gay sex."
The NYT reports: "During an interview in his office, Mr. Lawlor seemed stunned at how
he had fallen into a fight with the Catholic Conference, which has
supported other elements of the progressive agenda, including health
care reform and the abolition of the death penalty. 'This is a fight I don't need to have,' Mr. Lawlor said. 'Only bad things happen when politicians wade into religious doctrine.' In
Mr. McDonald's view, one of those bad things includes Bishop Lori
accusing him and Mr. Lawlor, who are both openly gay, of using the bill
to intimidate the bishops over their opposition to gay marriage. 'It's inaccurate,' Mr. McDonald said. 'It is unfair. And it was
dangerous, because it engendered deep feelings of hostility and stirred
homophobic responses from many people that resulted in very serious
threats.' … In an interview, Bishop Lori said he
stood by his accusation. He also bristled at Mr. Lawlor's suggestion
that the bishops 'hit the panic button' by quickly mobilizing thousands
of Catholics to rally in Hartford."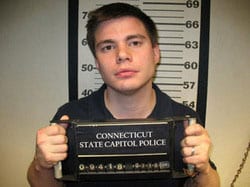 Meanwhile, Kane still holds a job in the New Britain school system, and some are wondering why:
"I can tell you one thing, after reading his e-mail today in a Hartford
Courtroom, I wouldn't want Kane teaching my child…A judge ordered the 26 year old teacher to undergo a mental evaluation
and anger management training.  I'd say!  His attorney says Kane
regrets what he did and is hoping to put this matter behind him and
move on with his life.  He says Kane will formally apologize to the
lawmakers if that's what the Court wants."
The New Britain school system hasn't offered an answer.
Previously…
Angry Catholic's Email Threat to Gay Connecticut Lawmakers Revealed [tr]
Man Arrested as Catholics Threaten Gay Lawmakers in Connecticut [tr]