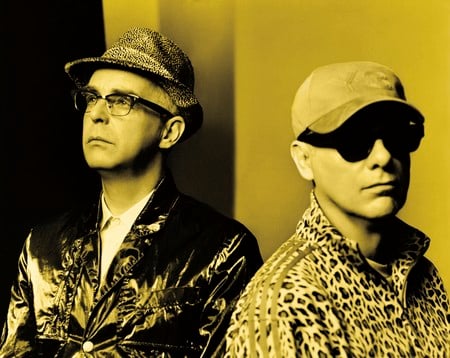 ROBBIE DAW 
Robbie Daw presents a weekly pop music update here on Towleroad. Robbie runs his own site called Chart Rigger.
In spring 1986, I was into my third year of writing, penciling and inking my own comic books. They were overly dramatic affairs about box-shaped robots (not unlike mini Toyota Scions!) in outer space shooting lasers at each other and falling in love. Often, I'd "borrow" characters from the DC universe, too, for a bit more zing. When each issue was done, I'd staple it together and pass it off to the readers: My parents. I was 12 years old.
In that time period, I'd listen to the radio while scribbling away with Crayola magic markers. And along came favorite hit song that spring—"West End Girls" by Pet Shop Boys. It sounded so urban. Like New York City. Not Western Pennsylvania, where I grew up.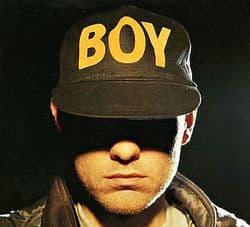 With the Pet Shop Boys, I've been there since the beginning. I've still got my 45s for "West End Girls" and "Opportunities," bought with saved-up allowance money, proudly on display in my CD cabinet. Please, Actually, Introspective, Behavio(u)r and Very all soundtracked my teenage years, at once both saving me from, and sometimes propelling me into, suburban depression.

Discography was the CD straight guys, queer boys and their gal sidekicks somehow all met eye-to-eye on in college. But I wasn't a blind follower. Bilingual had its merits, but was too lopsided. The Boys seemed to run out of steam with the grim Nightlife, and I was ready to give up after Release.
Maybe it was just me. Was I ready to abandon my childhood pals? Luckily Fundamental boasted a fair amount of saving grace, and was accompanied by a kick-ass world tour in 2006 (captured on the Cubism DVD).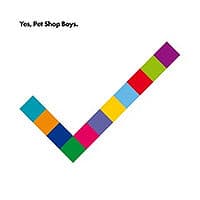 And so that brings us to Neil Tennant and Chris Lowe's tenth studio album, Yes. It's fittingly symbolic that EMI, the label that released the duo's first five LPs in the U.S., is distributing the album here (via the Astralwerks imprint). Because to this Pethead's ears, the pair have managed to capture their old sonic and lyrical brand of pop lightning in a bottle once more, and have me wanting to bust out the Crayola markers for the first time since Very.
Yes will be released March 23 in Europe and April 21 here in the States. The set's 11 tracks are produced by British hitmaking team Xenomania, who've worked with Cher, Girls Aloud, Saint Etienne, Sugababes and Dannii Minogue.
Read what to expect, track-by-track (with audio clips) and a list of today's new releases,
AFTER THE JUMP!
1. "Love etc.": The lead single finds Neil Tennant chidingly waving a finger atop a shuffle beat, declaring you "don't have to live a life of power and wealth" in this time of global economic collapse to be happy; "You need love." The bellowing male chorus is quite reminiscent of "Go West" and "New York City Boy." (Andy posted the animated video clip for "Love etc." a few weeks back.)
2. "All Over The World": Make no mistake, the Pet Shop Boys have pulled out every last stop to craft shameless pop this time around—and here's it's done with a Tchaikovsky "Nutcracker Suite" sample married to swaggering electo beat! "This is a song about boys and girls," Tennant simply states over and over in this addictive number. And much like Paul McCartney once proudly crooned that some people wanna fill the world with silly love songs, Neil gives more than a knowing wink and nod to the PSBs pop roots by singing, "It's sincere and subjective, superficial and true, easy and predictable, exciting and new…"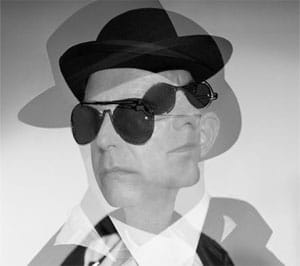 3. "Beautiful People": The first of two downbeat offerings on Yes. Like on Behavior and Release, Johnny Marr once again lends his crafty guitar work to Neil and Chris. A twangy '60s/surf rock-sounding ballad (which also finds Marr playing harmonica!), "Beautiful People" is more of a showcase for the onetime Smiths and Electronic guitarist than a Pet Shop Boys song. Actually, this would've sounded right at home on Release. Still, it gets under your skin by about the fourth listen.
4. "Did You See Me Coming?": Just like to state that much has been made in the past about the duo's double-entendre song titles, such as "So Hard" and "Love Comes Quickly." But moving on, we're back in sunny, skipping-down-the-street-in-springtime pop territory here. In lesser hands, this one might be considered throwaway, but the Pet Shop Boys have always been adept at wrapping their confections with enough simplistic complexity to keep things interesting. It's the "Heart" of this album. Also, the music geek in me wants to point out the similarity of the opening guitar riff to that in Morrissey's "Sister I'm A Poet." (Nice one, Johnny Marr.)
5. "Vulnerable": Sweet, but undeniable album filler. And the chorus is repeated far too many times, eventually becoming a bit tiresome. Interestingly, one thing notable about Yes is that a number of the choruses are curiously introduced right at the beginning of the songs.
6. "More Than A Dream": A real gem that opens with dark, squiggly synths and a disco swagger. Now living in the Obama era, one can't help but notice the poignant lyrics: "Could be better news we can share, something's coming soon, I hear it everywhere." For the chorus, Neil jumps into a Bee Gees-esque falsetto ("I believe we can change, we can make it more than a dream"). A great centerpiece for an album that, at this point, is shaping up to be pretty damn good.
7. "Building A Wall": Chris Lowe sings! Well, okay, he and Neil kind of banter back and forth in the intro and breaks between verses. Good album filler that's a bit of a history lesson, lyrically. Plus, it strangely manages to call out Jesus and The Man From U.N.C.L.E. in the same line.
8. "King Of Rome": A lush, beautiful ballad swathed in Chris Lowe's trademark synth chords. Highly reminiscent of both Behavior's "To Face The Truth" and "It's Only The Wind," and Very's "To Speak Is A Sin" in melodic tone.
9. "Pandemonium": Like Stock/Aitken/Waterman having a perfect head-on musical collision with Motown; in other words, my hands-down favorite on the album! "Pandemonium" is in a similar vein to Very's "I Wouldn't Normally Do This Kind Of Thing," in that it's an upbeat, unabashed love song. "The whole world's gone mad, what did you do? I'm telling perfect strangers that I love you!" Tennant proclaims. Also, in sneaks Johnny Marr's harmonica once again.
10: "The Way It Used To Be": Another standout track, and a complete 180-degree turn from "Pandemonium." This haunting tale of love lost builds at a layered, steady pace until, at almost three minutes in, Neil Tennant snaps into an accusatory rant, spitting out, "Then and there I knew that I lost you." Absolutely compelling, and should please fans who like their Pet Shop Boys dark and moody.
11. "Legacy": The second of the downbeat numbers, which clocks in at over six minutes. At one point long into this plodding political ballad, Neil bursts into French while circus music begins playing. Hot. Ah, well, maybe it's a grower. All in all, an irresistible album which we kind of always suspected the Boys still had in them. If you're a fan, you may be disinclined to be disinterested.
Here are clips from all 11 songs on Yes:

   TODAY'S NEW RELEASES: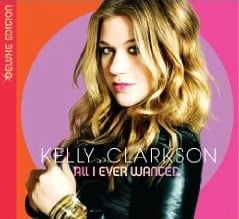 Kelly Clarkson's fourth album, All I Ever Wanted, featuring her recent #1-charting single "My Life Would Suck Without You."
Soundgarden and Audioslave frontman Chris Cornell's electro-tinged solo album Scream. Raise an eyebrow at the fact that the set was produced by midas-touch R&B/pop superstar Timbaland…and that they make a great combo!
Love Vs Money, from hit producer The-Dream.
New York indie rockers Yeah Yeah Yeahs' It's Blitz!, their third album and first since 2006's Show Your Bones.
New singles from Taylor Swift (the CSI Remix of "You're Not Sorry"), Carrie Underwood ("Home Sweet Home") and Rascal Flatts ("Here Comes Goodbye").