Today, organizers announced the formation of Fairness West Virginia, the state's first civil rights advocacy group: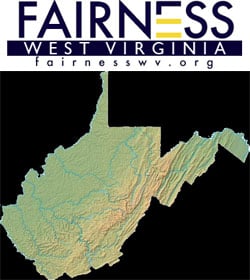 "The organization seeks to cooperate with both the public and private
sector to enact policies that reflect West Virginia's values and to
send a signal to the rest of the nation–especially to corporate
America–that we are open for business for everyone. A dozen citizens–both gay and straight–from diverse backgrounds
including a doctor, a university professor, businessmen and women, and
lawyers, among others, are the volunteers behind the creation of the
new organization. They are Democrats, Republicans, and Independents who
believe fairness transcends partisan politics. 'Our immediate call to action is to achieve the membership goal of
1,000 West Virginians for Fairness in twenty days,' said board member
Christopher Turman of Moorefield."
Religious right-wing "pro-family" groups have been active in the state. Last October, a group called the Family Policy Council threatened the state's governor, demanding he call a special session of the legislature in order to pass a constitutional amendment banning same-sex marriage.
You may also remember the hideous web ad launched last month by the same groups in which a "traditional" family was pictured in the scope of a sniper rifle.