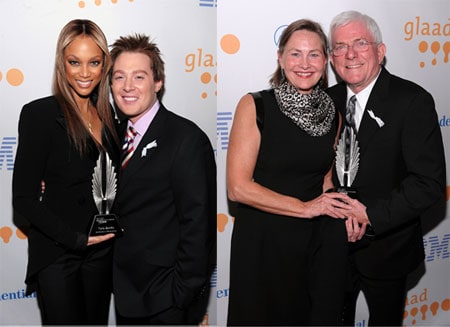 GLAAD handed out its annual media awards in New York City over the weekend. Tyra Banks received the Excellence in Media Award, Suze Orman received the Vito Russo Award, and Phil Donahue received a Special Recognition award.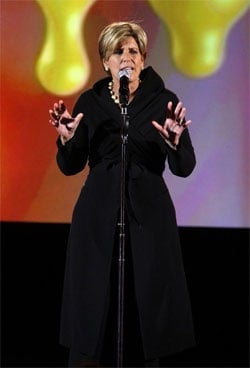 Said Banks: "You embraced me and now I embrace you in front of millions to show how beautiful you are, how absolutely amazing you are, how giving you are. And I will continue to do that as long as I have a platform. I will continue to get the message out about gays, lesbians, bisexuals and transgender people."
Said Orman: "I want every single one of you in this room to take note of whatcorporations put their time and money behind gays, behind lesbians –behind you. Do you want to continue to giveyour money to people in corporations that oppress us, that keep usdown? Or do you want to give your money to the corporations who canhelp us rise and change what needs to be changed in the United Statesof America today."
Said Donahue: "The majority of the people in the nation agree with us. Our job now is to summon these people to stand up and say so out loud. To tell them to join us."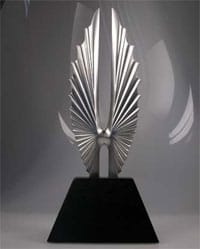 GLAAD also unveiled a new statuette for its winners. If you want specifics, it's 12 inches high, weighs 7 pounds, and is die-cast zinc, hand finished with a satin texture and plated with a custom nickel and rhodium finish for a dark luster, and comes on a black-stained ash base.
Fashion designer Jack Mackenroth filed a personal report on his blog, applauding GLAAD's choices of Suze Orman and Phil Donahue, though he had some critical thoughts about some of the other choices:
"I just really don't understand why Tyra Banks was being honored.Because she has gay people on her show? Big deal. It's about fashionand modeling. We are a dime a dozen in those industries. I may enjoywatching Mr. and Ms. Jay prance around the set of Top Model but I don'tthink they do anything to advance the LGBT cause. If anything theyperpetuate the idea that gay men are all over-the-top borderline dragqueens. Nothing against them personally. I just think GLAAD should diga little deeper. I also found it a bit offensive that Clay Aiken was making anappearance. He is another one who has been sending the message toAmerica that being gay is not OK. He does not represent me. There areso many talented, out, GLBT people that could have been chosen. I wastruly disappointed. Now I know that we need to align with our straight allies. I just think GLAAD needs to rethink some of their choices."
GLAAD's L.A. ceremony is coming up on April 18th and honors Kathy Griffin, Bishop Gene Robinson and The L Word. Others who will be appearing there are Jessica Alba, Dustin Lance Black; Balthazar Getty; Megan Mullally; Alan Cumming; Gus Van Sant; George Takei; Bruno Tonioli; Robert Gant, Peter Paige, Thea Gill, Michelle Clunie; Wilson Cruz; and Chad Allen.
Finally, they'll arrive in San Francisco on May 9th to hand out another round.
Father Tony of The Bilerico Project filed a video report. You can watch it, and see the full list of award winners from this weekend's ceremony in New York, AFTER THE JUMP…
GLAAD Media Awards winners
Excellence in Media
Tyra Banks
Vito Russo Award
Suze Orman
Outstanding Film — Limited Release (tie)
"Noah's Arc: Jumping the Broom"
"Shelter"
Outstanding Documentary
"A Jihad For Love"
Outstanding TV Journalism Segment
"Special Comment: Gay Marriage Is a Question of Love," "CountdownWith Keith Olbermann" (MSNBC)
Outstanding Digital Journalism Article
"Gay Athletes Are Making Their Mark" by LZ Granderson (ESPN.com)
Outstanding Spanish-Language Magazine Overall Coverage
People en Espanol
Special Recognition
Phil Donahue
Special Recognition
"The Laramie Project, 10 Years Later — The Lasting Legacy ofMatthew Shepard" (Sirius XM Radio)
Outstanding Daily Drama
"As the World Turns" (CBS)
Outstanding Newspaper Article
"Owning His Gay Identity — at 15 Years Old" by Theresa Vargas (TheWashington Post)
Outstanding Newspaper Columnist
Leonard Pitts Jr. (The Miami Herald)
Outstanding Newspaper Overall Coverage
The New York Times
Outstanding Magazine Article
"Let God Love Gene Robinson," by Andrew Corsello (GQ)
Outstanding Magazine Overall Coverage
Newsweek
Outstanding Digital Journalism — Multimedia
"Is Gay the New Black?" by Jessica Bennett and Jennifer Molina(Newsweek.com)
Outstanding Music Artist
k.d. lang, "Watershed"
Outstanding Comic Book
"Buffy the Vampire Slayer" by Drew Goddard, Jeph Loeb and JossWhedon (Dark Horse Comics)
Outstanding New York Theater: Broadway &Off-Broadway
"Wig Out!" by Tarell Alvin McCraney
Outstanding New York Theater: Off-Off Broadway
"Arias With a Twist," by Joey Arias and Basil Twist
Spanish-Language

Outstanding Novela
"Alma de Hierro" (Telefutura)
Outstanding Drama Series
"Capadocia" (HBO Latino)
Outstanding Individual Episode (in a series without a regularLGBT character)
"Duerme, mi bien," "Mujer, Casos de la Vida Real" (Univision)
Outstanding Daytime Talk Show Episode
"Juntos hasta el final," "Caso Cerrado" (Telemundo)
Outstanding Talk Show Interview
"La primera boda de pareja de transexuales," "Don FranciscoPresenta" (Univision)
Outstanding Celebrity News Segment
"La Proposicion 8," "Paparazzi TV" (Mega TV)
Outstanding TV Journalism Segment
"Drama de jovenes hispanos gay: Rechazados por ser gay," "NoticieroTelemundo" (Telemundo)
Outstanding Newspaper Article
"Confesiones de padre: Hombres gay revelan su orientacion a sushijos," by Lucero Amador Miranda (La Opinion, Los Angeles)
Outstanding Newspaper Columnist
Roberto Hernandez (Alianza Metropolitan News, San Jose,Calif.)
Outstanding Newspaper Overall Coverage
La Opinion, Los Angeles
Outstanding Magazine Article
"Contra viento y marea," by Isis Sauceda and Judith Torrea (Peopleen Espanol)
Outstanding Digital Journalism Article
"Cuba discutira derechos gay," by Fernando Ravsberg(BBCMundo.com)
Outstanding Music Artist
Giovanni Falchetti, "Junto a ti"