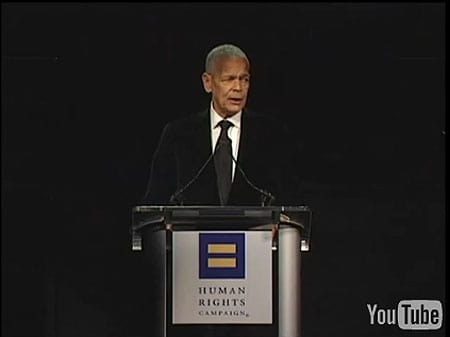 The Human Rights Campaign posted National NAACP Chairman Julian Bond's speech from their fundraising dinner in Los Angeles over the weekend. It's quite powerful.
Said Bond: "When someone asks me, 'are gay rights civil rights?' my answer isalways, 'Of course, they are.' Civil rights are positive legalprerogatives: the right to equal treatment before the law. These arethe rights shared by everyone. There is no one in the United Stateswho does not, or should not, enjoy or share in enjoying these rights. Gay and lesbian rights are not special rights in any way. It isn't 'special' to be free from discrimination. It is an ordinary, universalentitlement of citizenship."
You may recall that the NAACP sent out a statement in February in support of the California legislature's challenge to Proposition 8.
Watch it, AFTER THE JUMP…