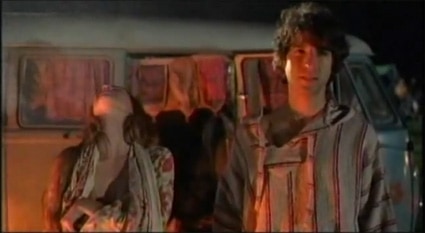 A trailer has arrived for Ang Lee's Taking Woodstock, the adaptation of the memoir Taking Woodstock: A True Story of a Riot, a Concert, and a Life
by Elliot Tiber, with Tom Monte.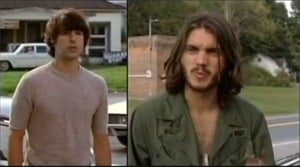 Taking Woodstock tells the story of Tiber, the gay man who helped facilitate Woodstock, providing the permit that made the Festivalpossible, as well as the eventual location on his milkman Max Yasgur'sfarm.
The film stars Demetri Martin as Tiber, Imelda Staunton and Henry Goodman  play Tiber's parents,Jonathan Groff plays Woodstock organizer MichaelLang; Emile Hirsch plays a recently returned Vietnam vet, EugeneLevy plays Yasgur, and Liev Schreiber plays atransvestite named Vilma. Jeffrey Dean Morgan plays a closetedmarried man having an affair with Tiber, and Paul Dano and Zoe Kazanplay a hippie couple attending the concert.
Emile Hirsch talked about the mudslide scene (below) last year, to EW: "The mud's pretty cold. It's later in the year than it was duringWoodstock. We were all shivering, and we had these silver-foil spaceblankets that miraculously keep you really warm…I did a Supermanslide down a hill, and started turning on my back. I was covered inmud. I think there was pig crap mixed in, because we all smelled likecrap."
Check out the trailer AFTER THE JUMP, which Demitri Martin introduces in his trademark drawing style…
Previously…
Emile Hirsch on His Piggy Woodstock Experience [tr]
First Look: Ang Lee's Taking Woodstock [tr]
Demetri Martin to Star in Ang Lee Film About Gay Woodstock Figure [tr]