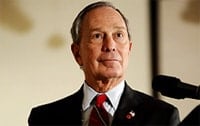 The New York Daily News reports that Bloomberg did some cheerleading at last night's annual dinner of the Lesbian, Gay, Bisexual & Transgender Community Center: "We see that the tide is turning, that support is mounting. Make no mistake, the time will come … and we will
pass this bill."
He talked to the paper before his speech: "I don't know whether it's more likely or not. If they consider a bill, I think they should
pass it, and I would be happy to testify for it."