And the tide shifts a bit more.
Following a Sunday night meeting with the Empire State Pride Agenda at New York's Gramercy Tavern, New York Senator Charles Schumer has done an about-face and come out in support of marriage equality, according to an announcement sent out by ESPA: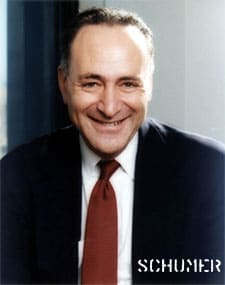 "[Pride Agenda Executive Director Alan] Van Capelle said that during the meeting, Schumer pledged his support to repeal DOMA and, in the interim, to work to provide federal recognition and portability of benefits to legally married same-sex couples. Sen. Schumer is Vice Chair of the U.S. Senate's Democratic Conference and the highest ranking member of the Senate to endorse marriage equality. Among other topics discussed at the meeting were continued HIV and Ryan White Care Act funding, appointment of openly LGBT people to the federal bench, special issues facing LGBT youth and seniors, the U.S. Census, and passage of a trans-inclusive Employment Nondiscrimination Act (ENDA) and hate crimes legislation."
Present at the meeting were Van Capelle, philanthropist and former GMHC board president Jeff Soref, Assembly members Daniel O'Donnell, Micah Kellner, and Deborah Glick, and New York City Council Speaker Christine Quinn.
Schumer previously supported civil unions, saying he believed marriage to be between a man and a woman.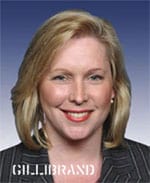 The NYDN reports: "It's hard to overstate the significance of this in the eyes of gay marriage advocates. (Recall that one of the first issues Gillibrand "evolved" on was marriage, although her office has insisted she always personally supported it). Clinton's departure from the New York political stage arguably gave Schumer some breathing room on this issue. Both Clinton and Schumer were under pressure from the gay community(which includes some very heavy-hitting political donors) to changetheir position from supporting civil unions to backing marriage, butthey both refused to budge. While Clinton was running for president, there was no way Schumercould move on this topic – no matter how much he might have wanted tofollow the lead set by then-Gov. Eliot Spitzer and his LG, DavidPaterson – especially since Barack Obama also took the civil-union-onlyapproach."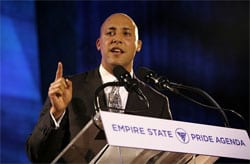 Said Van Capelle (pictured): "I want to thank Sen. Schumer for his support of marriage equality and the repeal of the so-called Defense of Marriage Act. Like a majority of New Yorkers, Sen. Schumer recognizes that only marriage equality provides same sex couples the status, protections and rights afforded to all other Americans. We look forward to working with him to win marriage equality in New York State and around the country."
Schumer's statement on marriage equality as posted by Politico: "It's time. Equality is something that has always been a hallmark ofAmerica and no group should be deprived of it. New York, which hasalways been at the forefront on issues of equality, is appropriatelypoised to take a lead on this issue."
At the Human Campaign Rights dinner in New York in early February, Schumer talked of Don't Ask, Don't Tell, hate crimes legislation, and ENDA, but made no mention of same-sex marriage. Watch his appearance there, AFTER THE JUMP…