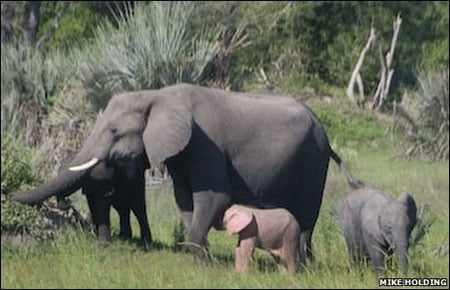 And the cameraman wasn't even drinking!
A pink albino baby elephant, the first to be spotted in Botswana (and the fourth known occurrence in Africa) was photographed by a BBC cameraman on a shoot for the network recently:
"While albinism is thought to be fairly common in Asian elephants, it is much less common in the larger African species.
Ecologist Dr Mike Chase, who runs conservation charity Elephants
Without Borders, said: "I have only come across three references to
albino calves, which have occurred in Kruger National Park in South
Africa."
It's chances of survival aren't great: "He said that the condition might make it difficult for the calf to survive into adulthood. 'What happens to these young albino calves remains a mystery,' said Dr Chase. 'Surviving this very rare phenomenon is very difficult in the
harsh African bush. The glaring sun may cause blindness and skin
problems.'
Chase expressed hope that the elephant species' innate ability to adapt might help the calf.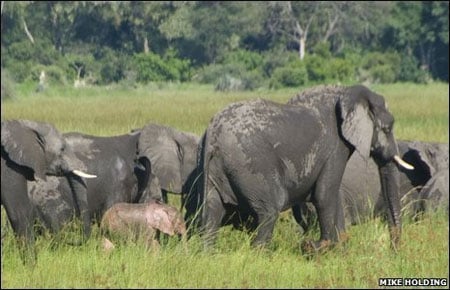 You may have missed…
Stunning Pink Dolphin Photographed in Louisiana [tr]