The Dallas Voice recently posted a report on a gaffe by freshman Congressman Jared Polis at an event with the Texas Stonewall Democratic Caucus. The Voice noted a rather shocking error made by Polis during a Q&A session. It appeared that Polis, an openly gay Representative from Colorado, was not aware that the U.S. had yet to pass an LGBT-inclusive federal hate crimes law.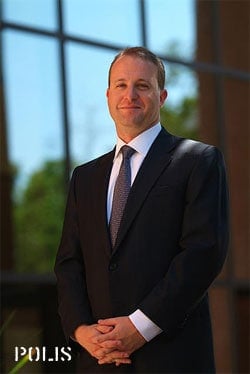 You haven't read about it on this site yet because I was hoping to get clarification from Polis on the remarks before posting about it, which I did last night.
Rex Wockner sent me the text of Polis' quote yesterday afternoon. Here's the background. Polis offered this reply late last week to a question from local advocate Randy Brown (full transcript here) about starting a Polk County (NE of Houston) chapter of Stonewall Democrats, and what the concerns are in Washington that people might get hurt:
"This (anti-gay hate crimes) is one of the reasons we have a federal
hate crimes law, for that very reason. You know, sometimes in some
conservative areas they don't prosecute hate crimes, so we have on the
books a law that allows the federal government to prosecute those if
your local DA refuses to, effectively. So you might want to report it to
your federal attorney general for your area if you feel threatened and
the local authorities are not investigating or don't seem to care. You
can turn to the federal government for investigation of potential hate
crimes. … (T)here is a federal recourse for that. That's the very
reason we did it.
[He is then informed by Texas Stonewall Democratic
Caucus President Daniel Graney that gays are not included in federal
hate-crime law.]
"Oh, it didn't pass? OK. So we still need to pass it?
OK. So we'll try to pass that one for you, too. But that's why we need
it. And of course Obama supports that, our Congress supports that, our
Senate supports that. I thought we did pass it, so we will try to get
that. But that's exactly why we need it though, because in some of the
areas where gays and lesbians do feel terrorized every day, the local
authorities are in league with the forces of hate. And this would, when
we pass it — thanks for pointing that out — give you recourse to go to
the federal government to investigate hate crimes in your area."
Not surprisingly, the news of Polis' gaffe immediately began getting coverage from bloggers Michael Petrelis and Joe Jervis at Joe.My.God. The Voice was prompted by the disbelief to post the audio from the event.
Having interviewed Polis at the Democratic National Convention and again at the inauguration with Corey Johnson for Towleroad, and understanding that he was versed in issues vital to the LGBT community, I was as surprised as these bloggers by the transcript and reached out to Polis last night before posting about the incident to see if I could clarify what happened, and received this reply from him.
Said Polis:
"I too was rather surprised that rather reporting on my speech, all that was covered was the mistake. I talked about how we had succeeded in shifting Colorado from red to blue, and won important protections for our LGBT community including a hate crimes bill signed by our then-Republican governor, inclusive ENDA, and same sex adoption.
"I challenged Texas Democrats to do the same. Rather than covering any of this, all that was written about was my answer to that question. I had just finished talking about Colorado and our successes there, and my mind hadn't made the shift yet to federal when I was asked the question and I gave the wrong answer. Talk to some of the attendees; I think they forgave the mistake right away as I was quick to correct it when pointed out and they focused on my message (apparently several of them didn't remember that I had made a mistake, which is why the author later posted the audio).
"I'm a co-chair of the Equality Caucus here in US Congress and hate crimes is at the top of our agenda, and I expect action on it soon. I'm co-sponsoring the bill and have discussed it both within the Equality Caucus and as recently as today with leadership staff.
"It's rather remarkable to me that this is getting so much play. Obviously I am well acquainted with hate crimes laws, ENDA, DADT, and other issues facing our community but we all sometimes make mistakes when we're speaking, especially in this case when I had just finished talking about how we in Colorado had gotten a hate-crimes law.
"I didn't just start working on these issues when I arrived in Congress, I've been an active supporter of HRC for years and advocated for the hate crimes law when it was being considered in Colorado.
"There's no excuse for the mistake, but anyone who speaks a lot is bound to make them from time to time. What surprises me is how eagerly some people have leapt on it. We are on the same side, fighting the same fight, and supporting our LGBT community, as I was in Austin for the Stonewall Dems.
Jared Polis"