A three judge panel declared Al Franken received the most votes and is the winner in Minnesota's drawn out and contentious Senate race. It's not over though: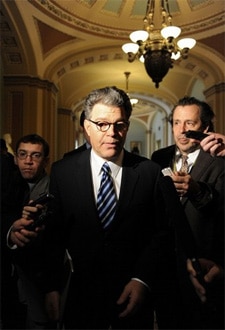 "The ruling isn't expected to be the final
word because Coleman immediately announced plans to appeal to the state
Supreme Court. He has 10 days to do so. That appeal could mean weeks
more delay in seating Minnesota's second senator. After a statewide recount and seven-week
trial, Franken stands 312 votes ahead. Franken actually gained more
votes from the election challenge than Coleman, the candidate who
brought it."
DNC Chair Tim Kaine released a statement: "Enough is enough. It is time for Norm Coleman to concede and for Al Franken to be sworn in as the next U.S. Senator from Minnesota.  The voters of Minnesota months ago elected Al Franken to the Senate – and during every step in the legal process that judgment has been confirmed.  Norm Coleman's own legal challenge resulted in more votes for Al Franken and now a three judge panel has ruled Al Franken the winner.  Former Senator Coleman's insistence on continuing his quixotic quest for this seat at best shows that he is putting his own political ambition ahead of the people and worst that he is complicit in an effort by national Republicans to deny Al Franken this seat for as long as possible so there is one less Democratic vote for President Obama's agenda for change.  The people of Minnesota deserve two Senators and the people of America deserve 100 in the U.S. Senate.  More importantly, the voters who cast ballots on Election Day deserve to have their verdict stand.  Senator Coleman may have a right to continue his legal challenges no matter how hopeless they are, but the right thing to do here is to concede defeat and allow this saga to end once and for all."
Oral arguments in Coleman's appeal aren't expected to happen until mid to late May.
Watch KTSP's report, and interview with Coleman, AFTER THE JUMP…