The recent 'bullycide' deaths of Eric Mohat and Carl Walker-Hoover certainly weren't the first, and won't likely be the last, but I didn't expect to read this story about Jaheem Herrera, which is similar in almost every aspect to Walker-Hoover's, just one week later.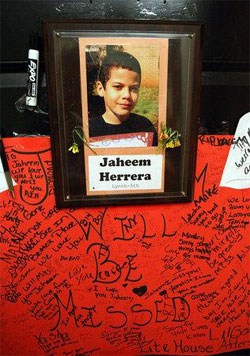 And like Walker-Hoover's, it includes a school tone-deaf to a mother's concerns, the Atlanta Journal Constitution reports:
"On Thursday afternoon, after returning home from Dunaire ElementarySchool, Jaheem quietly went into his room and hanged himself. His10-year-old sister, Yerralis, also a fifth-grader, discovered Jaheem'sdead body. 'His sister was screaming, 'Get him down, get him down,'' saidNorman Keene, who helped raise Jaheem since the boy was two years old. When Keene got to the room, he saw Yerralis holding her brother,trying to remove the pressure of the noose her brother had fashionedwith a fabric belt. Jaheem was bullied relentlessly, his family said. Keene said thefamily knew the boy was a target, but until his death they didn'tunderstand the scope. 'We'd ask him, 'Jaheem, what's wrong with you?'' Keene recalled. 'He'd never tell us.' He didn't want his sister to tell, either. She witnessed much of thebullying, and many times rose to her brother's defense, Keene said. 'They called him gay and a snitch,' his stepfather said. 'All the time they'd call him this.' In an interview with WSB-TV, the boy's mother, Masika Bermudez, alsosaid her son was being bullied at school. She said she had complainedto the school. She said she asked him about the bullying Thursday when he came homefrom school and he denied it. She sent him to his room to calm down. Itwas the last time she would see him alive."
Watch the heartbreaking news report, AFTER THE JUMP…
Family says bullying led boy, 11, to hang himself [atlanta journal constitution]
Clip via Pam's House Blend)