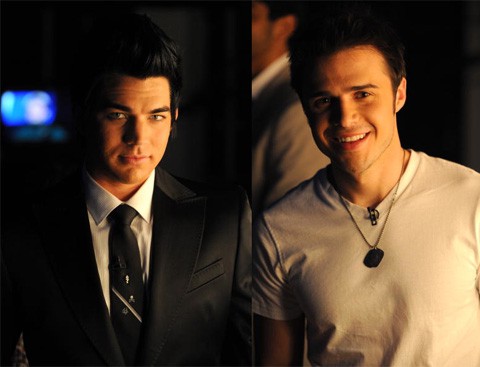 Adam Lambert and Kris Allen, who I previously reported are roommates at the American Idol mansion, are apparently "locked in a bitter feud" if you believe the National Enquirer.
An "insider" tells the tabloid in its May 4 issue: "Although they are friendly on the surface, there's a major culture clash between Adam and Kris. Adam is gay and avery flamboyant guy from L.A., while Kris is a conservative married man from a small Arkansas town. He's usually very easygoing and tolerant, but it's as if he and Adam are from different planets. And since Adam feels he has become the front-runner in the competition their relationship has become very strainged. Kris believes Adam has become arrogant and incredibly fulll of himself….Adam and Kris now go for long periods of time without speaking to one another. You can cut the tension with the knife."
According to the tab, "Kris often complains that Adam leaves clothes, nail polish, and other accessories all over the room they share…and Adam refuses to change his messy ways…The tight personal space is cramping both their styles and they're taking it out on each other."
Boy Culture has a scan of the item.
Of course there's nothing a tabloid loves more than a bitter feud. I'd expect Lambert to have  a bigger issue with Gokey but then again, it isn't always easy to share a room.