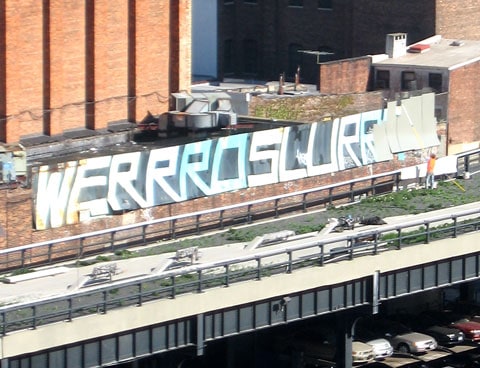 What's this you ask? Towleroad reader Michael Mayer sends in this photo of a worker on what will soon be New York's newest outdoor space, the High Line (I've posted about it before here and here) sterilizing one of its views, which happens to be located on the site of the legendary gay Roxy nightclub (which incidentally, as far as I know, is sitting empty – it was scheduled for development as a condo but I've heard those plans have fallen through in the recession).
Mayer laments: "I noticed this morning that a worker on the new High Line is in the process of painting over the graffitti that has forever been a part of the Roxy's structure….Could you post about this. I think what make the High Line so special is its attempt to claim urban decay as a feature of beauty…not about painting over any former features of the city."
No doubt some of you who consider graffiti a blight will disagree but in certain cases I think it might add some character to this newly gentrified bit of the city.