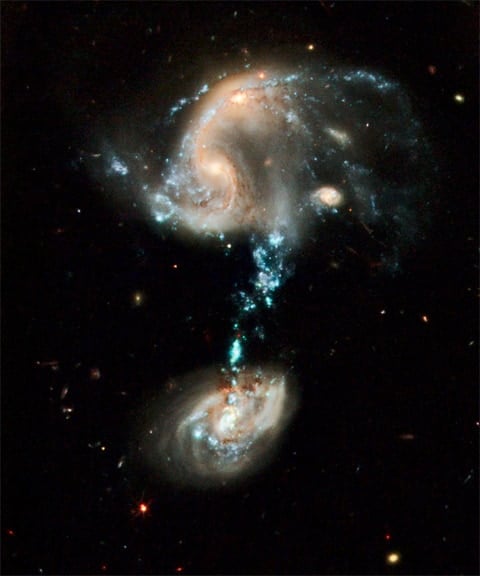 The Hubble Space telescope is 19 years old. To celebrate the anniversary it has looked deep into space at a galaxy cluster called ARP 194. NASA writes: "This interacting group contains several galaxies, along with a 'cosmic fountain' of stars, gas, and dust that stretches over 100,000light-years."
Gorgeous!
And if you are interested in knowing just how far into space this is, check out the incredible video (and further explanation of what you're looking at), AFTER THE JUMP…
You may have missed…
Saturn Like You've Never Seen It [tr]
Satellite Photo: North Korean Missile Launch [tr]
Hubble Telescope Snaps Quadruple Moon Transit of Saturn [tr]
In Our Backyard [tr]
End of the Year Space Porn: Jupiter and Ganymede [tr]
"The northern (upper) component of Arp 194 appears as a haphazard collection of dusty spiral arms, bright blue star-forming regions, and at least two galaxy nuclei that appear to be connected and in the early stages of merging. A third, relatively normal, spiral galaxy appears off to the right. The southern (lower) component of the galaxy group contains a single large spiral galaxy with its own blue star-forming regions. However, the most striking feature of this galaxy troupe is the impressive blue stream of material extending from the northern component. This 'fountain' contains complexes of super star clusters, each one of which may contain dozens of individual young star clusters. The blue color is produced by the hot, massive stars which dominate the light in each cluster. Overall, the 'fountain' contains many millions of stars."