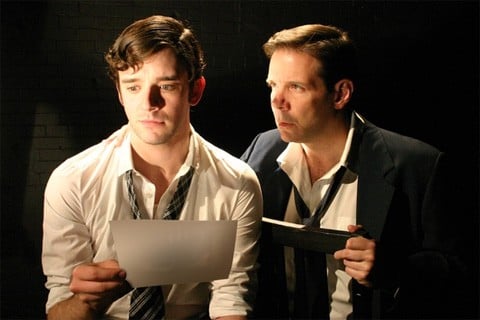 Michael Urie plays Rudi Gernriech and Thomas Jay Ryan plays Harry Hay in The Temperamentals, which begins previews on April 30 and a limited run on May 4 at the Barrow Group Studio Theatre in New York.
Broadway World writes: "'The
Temperamentals' tells the story of two men – the communist Harry Hay
and the young Viennese refugee and designer Rudi Gernreich, weaving
together the personal and the political to tell a relatively unknown
chapter in gay history. It explores the deepening love between two
complex men, while they build the first gay rights organization in the
United States pre Stonewall. This is the perilous, unpredictable world
these men inhabit as their impossible dream of forming such an unheard
of organization becomes a reality. They must navigate their
relationship in new and surprising ways. "The Temperamentals" is an
intimate portrayal of the men who created history and the epic
struggles they overcame. The characters consist of the actual men who
founded the Mattachine Society, as well as prominent figures of the
time such as Frank Tavener of the House Un-American Committee and the
director Vincente Minnelli."