NYT reports 25 gay men have been executed in Iraq in past two months. Vigils to be held for slain gay Iraqis in New York this Friday and in London next Thursday.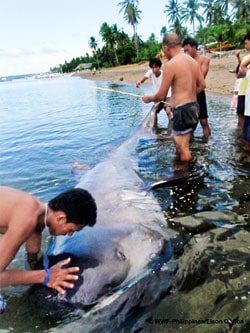 Extremely rare megamouth shark caught, eaten in Philippines.

Does No Doubt's new track deliver? – LISTEN.

Columbia, Missouri City Council passes domestic partner law in unanimous vote: "The legal recognition can allow partners to participate in health care
decisions, burial arrangements and other matters. The law is not
equivalent to legalizing same-sex marriage, and City Councilwoman
Barbara Hoppe pointed out that private employers don't have to follow
the registry."

Texas Christian University to offer housing for gay students.

Tony Blair: Pope wrong about gays. "There are many good and great things the Catholic Church does,
and there are many fantastic things this Pope stands for, but I think what
is interesting is that if you went into any Catholic Church, particularly a
well attended one, on any Sunday here and did a poll of the congregation,
you'd be surprised at how liberal-minded people were."

NPR's Terry Gross talks to Mike and Mel White from The Amazing Race.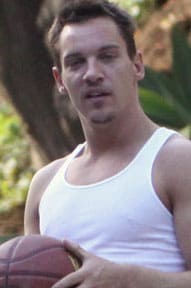 Jonathan Rhys Meyers gets his game on.

Six gay candidates were victorious in various elections nationwide on Tuesday. Victory Fund: "Salisbury, Maryland elected an openly gay mayor,  Jim Ireton.
In Jacksonville, Illinois, Scott Hall won  election to the city council. Robert Garcia won a race for a seat on the Long Beach, California, city council.
Shane Cohn will become the first openly gay alderman in St. Louis, Missouri.
In Nebraska, Barbara Baier advanced to the general election in her bid to retain her seat on the school board in Lincoln. She is the state's only openly LGBT elected official.
Margaret Paul was elected alderman in the City of Berwyn, Illinois.

Ian Somerhalder looking more like a vampire every day.

Hugh Jackman "heartbroken" over Wolverine leak.

I saw what you did: don't try to slip anything past the Jackdaw.

Or this guy: the dude from Fringe.

NYC rally tonight in support of Vermont marriage equality. Union Square 6:30 pm.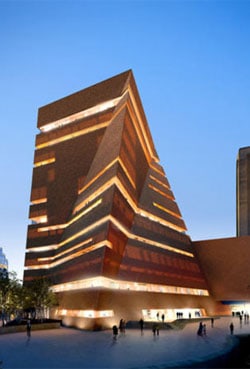 Tate Museum extension design gets green light.

Actor Kal Penn tapped as White House arts liaison.

Syracuse man indicted in hate crime killing of transgender woman Latiesha Green last November: "An Onondaga County grand jury handed down the indictment Friday,
charging Dwight DeLee with murder as a hate crime, murder and a weapons
possession charge."

Swiss philosopher Tariq Ramadan causing controversy in Rotterdam over his defense of a "European Islam" and his perspective on gays and the role of women in society.

Gay families get invite to White House Easter Egg roll: "White House officials said that tickets for Monday's Easter Egg Roll
event were distributed to gay, lesbian, bisexual and transgender
organizations, but did not specify how many or to which ones.
Representatives from Family Equality Council, Human Rights Campaign,
National Gay and Lesbian Task Force and other groups confirmed they
were invited and encouraged to have their members participate. 'The
Obama administration actually reached out to us as an organization, and
said we want gay families there, and they are an important part of the
American family fabric,' said Jennifer Chrisler, executive director of
the Boston-based Family Equality Council, which is helping spearhead
the effort to organize families to attend."