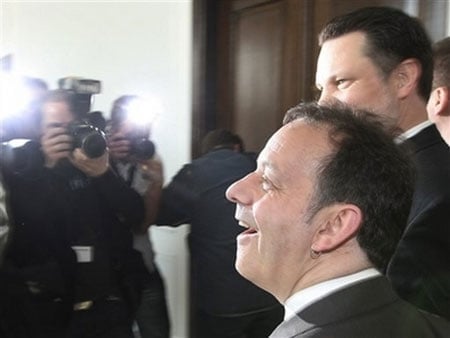 In March 2008 I posted about Tom Moulton and Brendan Fay, whose wedding photos were used without permission in a nationally broadcast address by Polish President Lech Kaczynski warning the nation that supporting the Lisbon Treaty, which is linked to the EU
Charter of Human Rights, would mean that same-sex marriage could come
to Poland.
Yesterday, the NY Daily News reported that the couple have been invited to Poland: "It's short of the apology and face-to-face meeting Brendan Fay and
Tom Moulton were seeking from President Kaczynski, but it's 'a great
first step,' Fay said. 'There is silence in the letter about the
rights of lesbians and gays in Poland, but the fact that we got a
response says something.' Fay said he was also heartened by the
tone of the letter sent by Polish secretary of state Ewa
Junczyk-Ziomecka, in which she writes of reaching 'over the rainbow'
and of 'breaking stereotypes.'"
Fay told the NYDN that they're planning a trip to Ireland and will go on to Poland if they can meet with the president. Fay, an activist, helped organize the NYC demonstration I posted about on Wednesday being held today in front of the Iraqi mission to the United Nations meant to raise awareness about the recent executions of gays in Iraq.