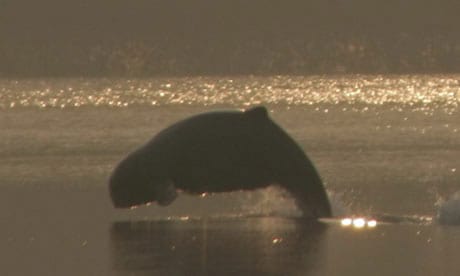 Their numbers globally were thought to be in the low hundreds, but yesterday at a conference in Maui conservationists announced they've found thousands of Irrawaddy dolphins living in freshwater regions of Bangladesh's Sundarbans mangrove forest and the Bay of Bengal:
"Until this new Bangladesh population was found, figures from the International Union for Conservation of Nature (IUCN) estimated the Sundarbans population to be around 450. WCS says it used rigorous scientific techniques in an area where little marine mammal research has taken place to document the new population."
Previously they had been known to be still living in the Mekong river and in areas of the Philippines and Indonesia.
A couple clips of the dolphins (not the ones in Bangladesh), AFTER THE JUMP…
Previously
Stunning Pink Dolphin Photographed in Louisiana [tr]