It's not clear whether the robbers were motivated by their victims' sexual orientation. The Miami Herald reports: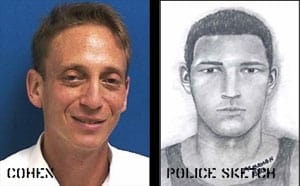 "David Villanova Jr., 27, and Craig Cohen, 47, were beaten in
separate attacks early Monday morning by the same group of men,
according to BSO spokeswoman Dani Moschella. Cohen, of Oakland
Park, at right, remains unconscious at Broward General Medical Center.
Villanova Jr., of Pompano Beach, suffered a skull fracture but was
awake Wednesday afternoon and speaking with detectives. Moschella said Wednesday that the same group of robbers attacked both men at separate times. Moschella
said detectives are treating the two attacks as robberies, but have not
ruled out the possibility that the beatings were hate crimes. 'They were two brutal attacks but right now the only motive we know definitely is robbery,' she said."
The Broward's Sheriff's Office released a sketch of one of the assailants (far right).