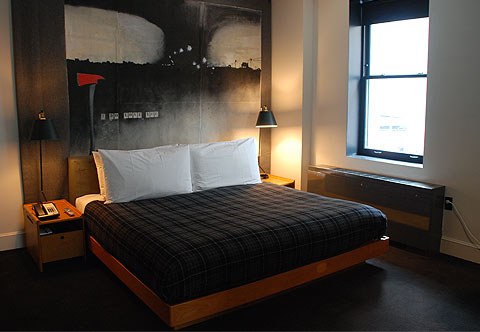 Those of you who might be heading to New York for the upcoming Pride festivities surrounding the 40th anniversary of Stonewall will likely want to know about The Ace Hotel, a colorful, upscale accommodations option that opens this weekend in an unlikely, almost forgotten pocket of the city.  Broadway at 29th street between Madison Square Park and Herald Square isn't the trendy kind of neighborhood you'd expect a hotel to pop up, but at one time the historic (the 1904 Breslin Hotel) property's locale was the Times Square of its moment, one of New York's first to be electrified with lighting and signage.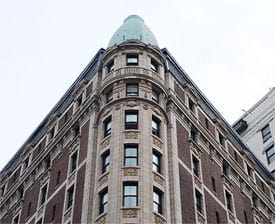 New Yorkers will likely read about the neighborhood's re-branding (NoMad – north of Madison Square, it's called – there's even another hotel called The NoMad, going up down the street), the hotel's history, and the restaurant that's opening soon (The Breslin, from the restaurateurs who brought you West Village 'gastropub' The Spotted Pig), but you probably won't hear that the group behind The Ace Hotel are gay.
Longtime friends (from the early 80's) and entrepreneurs Alex Calderwood, Doug Herrick, and Wade Weigel brought their collective force to the attention of a small building in Seattle in the late 90's to create the first Ace. Subsequently, they've opened hotels in Portland, Palm Springs (I mentioned it in April), and now New York. Their unique partnership is the force behind a blooming brand built around collaborations, independent businesses, and creativity.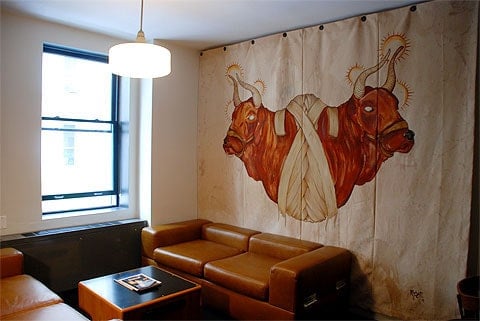 Herrick told me: "I'm definitely more operations — take care of staff, make sure they
have the right culture. Alex is the mastermind of PR and sales. Wade
has a great design sense. We all feed off of each other. It's a
very organic approach. We've been able to create a really good staff."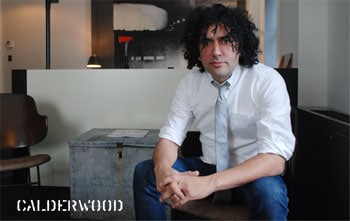 Calderwood gave me a tour of the place two weeks ago, which has been designed in collaboration with New York-based firm Rowan & Williams. The playful lobby which was receiving its finishing touches is articulated with found objects — salvaged doors from the old Macy's building, vintage apothecary cabinets, and a central long, library-esque work table, echoed in the lobby bar by floor-to-ceiling book shelves. Most everything is custom-designed or vintage. Down to the ceramic-tiled floor they discovered under two inches of concrete and 80's linoleum, the first impression is of a "worked-in" comfortable, creative space that eschews trendiness for authenticity.
Calderwood told me: "A lot of times we get lumped into being the 'hip' hotel, but really
we're trying to create an instant classic. Sure there's edgy elements,
and that's great, but I'd rather create something that lasts over time.
It keeps getting layered, so you can keep adding touches, adjusting, and tweaking, and it's not so rooted in a time period."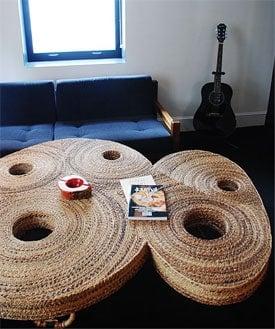 Collage artist Michael Anderson is creating a mural with a collection of all the New York street tags and stickers
he's collected since the early 90's around the lobby's central
staircase. "Like an artful bathroom wall," Calderwood explains. "Street, clashed with elegance."
The genesis of the hotel's "hippie" (not "hip") influences may originate in Calderood and Weigel's early Seattle days: "Wade lived in the lobby of an old hotel in Chinatown," Calderwood tells me. "He convinced
the owner to let him live in the lobby, turned it into an artist's
loft, den, and local musicians, artists, and the creative
community would get together for illegal parties." Calderwood introduced Weigel to Herrick at legendary Seattle gay bar Tugs, and the three (none formally educated) began collaborations which would eventually turn into their Ace adventure.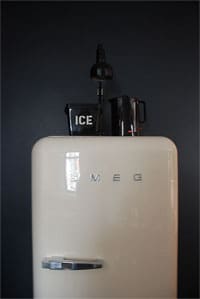 The Ace has also spawned a brand of its own as an extension of its culture — products created (sometimes out of necessity) for the hotel which are the result of unique collaborations with designers they admire. Also, plaid blankets which cover the beds, robes based on vintage boxing jackets, guitar strings, and a forthcoming Ace shoe in collaboration with Converse, to name a few.
Said Calderwood: "There's definitely no big business plan behind it. It's all gut
instinct. The network of people that we work with. It keeps
growing. We see the Ace brand growing in terms of number
of hotels, but within the hotels we see the depth of collaborations
that are a part of it growing as well."
I wasn't able to get photos of the lobby (you'll likely able to see it soon in a NYT exclusive) but I was brought up to the rooms which are bright, spacious, and eclectically furnished with artist-designed murals and over-sized lines of text from song lyrics or poetry. Some of the rooms come with guitars and record players.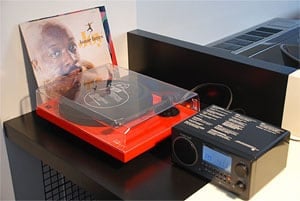 "It's a rock and roll cousin to what Andre Balazs does. We have a different sensibility," Calderwood tells me. Andre Balazs is the owner of The Standard chain of hotels, one of which opened in New York recently as well. In fact, the three have a close relationship with Balazs that continues. They met their New York developer, Andrew Zobler of GFI Development who found them the old Breslin property, through Balazs. Zobler, too, is gay.
Zobler contacted Calderwood three years ago when the trio was searching for a New York property and said he had something appropriate to show them in the old Breslin Hotel building.
"We have a great partnership, and there's a unique sensibility in terms
of our interests. It's not a one-dimensional perspective," said Calderwood, of the partners. "That said, I don't think
of ourselves as a 'gay hotel'. We get families here, artists, a downtown crowd. It kind of appeals to everybody. We've just always been inclusive versus
exclusive."
Calderwood and the Ace partners would like to extend a special invite to Towleroad readers which includes a room rate of  $239.00 for a standard room or stuff your package and upgrade to a deluxe room for 50.00 more per evening. The package also includes a bottle of Rudy's Barber Shop Shampoo (West Coasters may be familiar with the Rudy's Barbershop chain, another venture by the Ace partners), a choice of several spirits out of our mini bar, and an in room movie of your choice.
The rate is good for Towleroad readers throughout the summer. Bookings can be made here (just make sure that the corporate/promotion code says 'Towleroad').