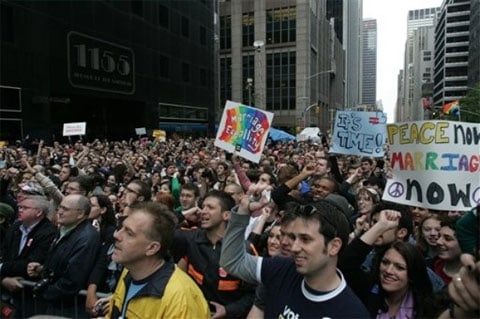 Thousands of people attended a rally on Avenue of the Americas near Times Square yesterday sponsored by Broadway Impact in support of marriage equality in New York. A short time before that, state Senator Ruben Diaz Sr. bussed in approximately 10,000 evangelical bigots for an anti-gay rally of his own on Third Avenue in front of the Governor's office.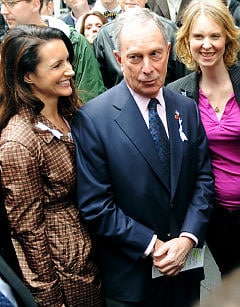 Attending the marriage equality rally were  Paterson, NYC Mayor Michael Bloomberg, Assemblyman Daniel O'Donnell, Empire State Pride Agenda executive director Alan van Capelle, statee Senator Tom Duane, and entertainers Cynthia Nixon (who announced her engagement to fiancee Christine Marinoni), Cheyenne Jackson, Audra McDonald, and Gavin Creel and the cast of Hair.
Joe.My.God has posted some great photos of the event. World of Wonder has an excellent gallery as well.
NYT: "Mr. Paterson, who appeared along with Mayor Michael R. Bloomberg(right: image NYDN) and other state and city leaders at a rally of gay rights activistsnear Rockefeller Center on Sunday afternoon, did not initially plan toattend. His last-minute appearance, which came just a few hours afterthousands of same-sex marriage opponents held a much largerdemonstration outside the governor's Midtown Manhattan office,underscored the high stakes at issue in the Senate vote. 'We're in a race right now in New York,' the governor told a crowd ofseveral hundred people who gathered along Avenue of the Americas. 'Thetime for justice, the time for equality, the time for equal rights cannever be any more urgent than right now.'"
The state legislature adjourns in six weeks. Sen. Tom Duane pleaded to the crowd: "There are 18 days left in the Senate session. I need your help."
Video blocks, AFTER THE JUMP… A compilation of speakers at the event – Governor David Paterson, Mayor Michael Bloomberg, Cynthia Nixon, Audra McDonald, the cast of Hair performs "Let the Sunshine In", and Cheyenne Jackson sings "If I Can Dream", AFTER THE JUMP…
Hair, and Cheyenne Jackson:
Here are two anti-gay rally clips (the second features Rabbi Levin and Hispanic evangelicals), via Joe.My.God: