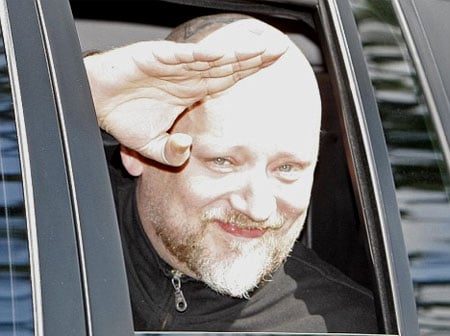 After serving just four months of a 15-month prison sentence for false imprisonment of escort Audun Carlsen, Boy George was released from prison today looking happy, health, and slimmer, the Daily Mail reports:
"Not only had the singer grown a goatee, he had his sparkle back in
his eyes compared to his glum appearance of a man contemplating life
behind bars earlier this year. The former Culture Club frontman was jailed on January 16… After
initially being sent to Pentonville Prison in North London, O'Dowd was
later transferred to Edmunds Hill Prison in Suffolk, where he remained
until his release this morning. Dressed in a black zip-up top,
the bald singer smiled and saluted photographers as he experienced
freedom for the first time in months."
George will be monitored via an ankle bracelet and curfew.