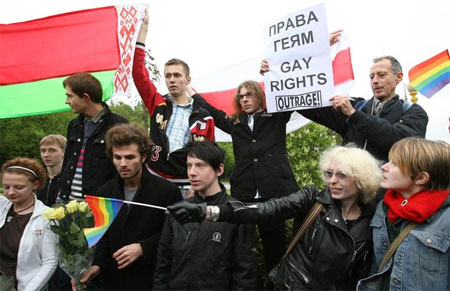 A gay rights demonstration in Moscow on Saturday to coincide with the Eurovision Song Contest finals was broken up by police who arrested between 20 and 40 people.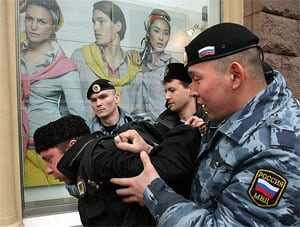 The L.A. Times reports: "Shortly after noon, about a dozen activists stood on a nearby lawn ofthick grass and blossoming lilac bushes and began to shout slogans. 'Homophobiais a shame!' they chanted. The demonstration lasted for about a minutebefore the police set upon them from all sides, clambering through theshrubs and knocking news cameramen out of the way to seize thedemonstrators, pin their arms behind their backs and drag them off intowaiting buses and patrol wagons. They knew it would be astruggle. The city government has repeatedly denied their permitrequests. Police in the past have stood aside while ultranationalistskinheads beat gay activists bloody — then arrested the activists, notthe skinheads. (Skinheads, unlike gays, have been permitted to march inMoscow.) This year, the government seemed particularly incensed.Eurovision should have been a proud moment for the Russian authorities,a lighthearted celebration badly needed after bitter conflict withEurope over the war in Georgia and natural gas shut-offs."
A second wave of demonstrators arrived shortly after the first group was arrested. They too, were hauled away by police.
Among those arrested were British activist Peter Tatchell of the group Outrage, Russian activist Nikolai Alexeyev, and Chicago-based activist Andy Thayer of the gay liberation network.
Chicago-based activist Andy Thayer reports on the experience of his arrest and offers an update on the situation:
"Around mid-day today, Moscow Time, allof our people were finally released. Holding him and other keyactivists well past the mandated three hour time limit, the Russianauthorities are trying to make an example of Moscow Pride's foremostorganizer, Nikolai Alekseev, by slapping multiple charges on him beyondthe traditional "demonstrating without a permit" violation. Even though he is finally releasedfollowing a hearing this morning, Alekseev's attorney Dmitri Bartenevtold me that the exact nature of the charges against Alekseev aren'tclear, except that since he has been released, he cannot now besentenced to jail time. Bartenev and the public were barred from thismorning's hearing. Alekseev faces trial on May 26. Despite the violent attack by OMOHcops, the Russian equivalent of SWAT police, fortunately no one wasseriously injured. Also, after some initial very worrying reports aboutthreats to deport our Belorussian friends, who might in turn faceincarceration by their country's dictatorial regime, we're happy toreport that they have been released."
Here's CNN's report. And AfterElton wonders if out comedian and Eurovision Song Contest host Graham Norton, should have made more of the arrests than the single statement he made, during the show, without further explanation: "Heavy-handed policing has really marred what has been a fantastic Eurovision."
Seven videos regarding the arrest, including interviews with Peter Tatchell and Andy Thayer, AFTER THE JUMP….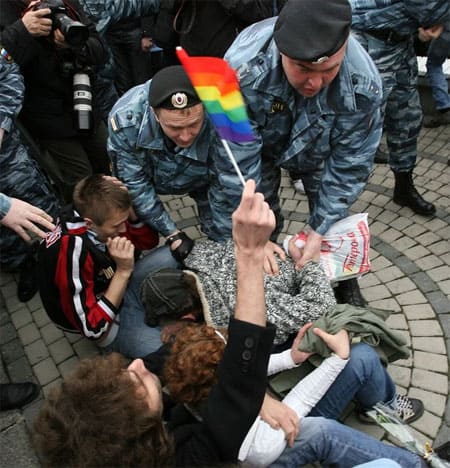 Gay Activists in Moscow Thwarted [la times]
VIDEOS, AFTER THE JUMP…
Police break up the gay rights protest while allowing a counter demonstration to go on as planned:
Raw video from Sky News:
Four videos from Gays Without Borders. In the first Peter Tatchell speaks, in the second, Andy Thayer speaks. The other two are foreign news reports: