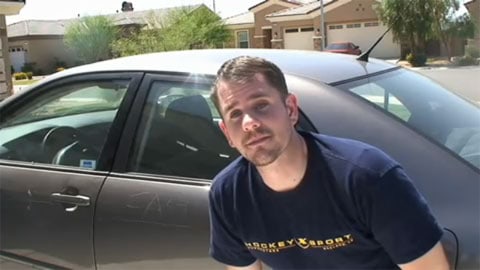 Activist and vlogger Sean Chapin (we've posted a few of his videos here) had his car vandalized over the weekend while staying in Indio, California near Palm Springs.
Chapin's latest project is More Equal Union, a concept music album about the struggle for LGBT rights in America that  is scheduled to appear on iTunes by the summer.
According to Chapin, "The album follows the story of a gay family from when the couple first met to their tragic end as they react to the forces around them (The Story of Ethan and Jacob, AFTER THE JUMP…).The songs feature a multitude of genres, including electronica, punk rock, folk, grunge rock, jazz, rap, soundtrack, ballads, pop and choral.The songs cover various LGBT issues currently on the radar, including marriage equality, openly serving in the military, gay adoption, hate crimes, workplace discrimination and anti-gay bullying.Proceeds from the album will be donated to Lambda Legal so that we can continue the fight towards LGBT civil rights everywhere in America."
More Equal Union's YouTube channel is here.
Chapin talks about the vandalism incident, AFTER THE JUMP…
More Equal Union background…