A disgusting hate crime out of West Seattle: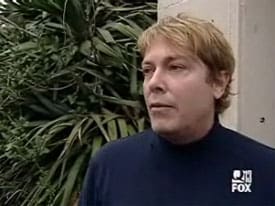 "Seattle Police are looking for the vandals that have written anti gay slurs on the home of a gay West Seattle Couple. The victims told police the same homophobic tag has showed up severaltimes. The victims have painted over the graffiti and the next day itreappears. The 54 year old victim told Q13 Fox News that the vandals wrote the hateful graffiti on his garage 3 times in the last 4 days. 'As a gay man I cannot live in a house where someone is writing this on the side of my house.' The West Seattle man has asked to have his identity concealed.According to him the vandals were so brazen that last time they hit hishome in broad daylight…The victim told Seattle Police Officers he believes he and his partner are being targeted because of their sexual orientation. 'Now, I feel like I'm living in a fish bowl. Someone is constantlywatching me I feel very uncomfortable in my house. I hardly slept atall last night.'"
The couple now fears that the perpetrator has poisoned their dog, who has been sick for a week.
Watch video reports from KOMO and from Q13 FOX, AFTER THE JUMP…