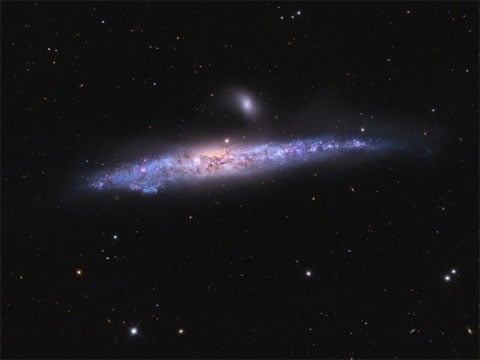 Dark Horizons reports: "IMAX Corporation, NASA and Warner Bros. Pictures today announced that
IMAX 3D cameras will return to space to document one of NASA's most
complex space shuttle operations – the final service of the Hubble
Space Telescope (HST), STS-125. The IMAX 3D cameras are set to launch
on board the Space Shuttle Atlantis on May 11th, 2009. The astronauts
will operate the IMAX cameras and will film the five intricate and
difficult spacewalks required to service Hubble. The IMAX footage will
be combined with breathtaking up-close images of distant galaxies from
Hubble in the upcoming IMAX/Warner Bros. Pictures co-production Hubble
3D."
This image, of the Whale Galaxy, was a recent APOD, but wasn't shot by the Hubble. I just thought it was sweet.